UPSC 2020: 9 exam tips from 372-ranked Bhanu Pratap Singh
Bhanu Pratap Singh, a resident of Karahi village of Fatehpur Sikri area of ​​Agra, scripted his success story through the Hindi medium. He secured 372nd rank in UPSC 2020 exam.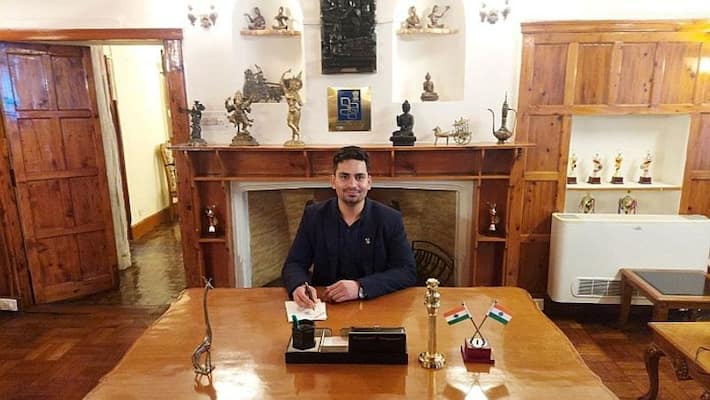 It is a common notion that those dreaming of becoming a part of the Indian Administrative Service find it challenging to crack the UPSC exam with the Hindi subject. Most of the candidates hailing from backward areas of the country get higher education in the Hindi medium. But when they start preparing for the UPSC exam, they choose the English medium for it. 
However, Bhanu Pratap Singh, a resident of Karahi village of Fatehpur Sikri area of ​​Agra, scripted his success story through the Hindi medium. He secured 372nd rank in UPSC 2020 exam. 
Bhanu Pratap, who comes from a lower middle-class family, started preparing for the examination without coaching. His father, Uttam Singh, is a farmer and his mother, Ganga Devi, is a housewife. 
Also Read: UPSC 2020: How Bengaluru's Akshay Simha cracked the Civil Service Examination
With a joint family and limited earning, preparation for cracking the UPSC exam was no less than a challenge. The dreams were big. He had to become an IAS/IPS officer, but the resources were limited. This, too, was no less than a dream, which Bhanu Pratap worked hard to fulfil. 
Bhanu Pratap used to study 8 to 10 hours a day. His attempts to clear the examination failed in 2016 and 2017. But in 2018 and 2019, he tasted success, and in 2020, he finally cracked the UPSC exam. 
Bhanu Pratap Singh started preparing for the exam in 2016. In 2018, he was selected in the IRPF cadre. In 2019, he was successful again and got through the Indian Audit and Accounts Services cadre. 
Bhanu Pratap is currently undergoing training at the National Academy of Audit and Accounts Shimla. In the meantime, he gave the UPSC main exam and interview. He had a dream to do something big that could bring change in society. For this, he believes that civil services are a good platform. 
Bhanu Pratap says that there are no civil servants far and wide from the kind of background he comes from. For this very reason, he decided to start preparing for the UPSC exam. 
Also Read: UPSC 2020: Anjali Vishwakarma gave up well-paying MNC job for taking Civil Services Exam
Bhanu Pratap Singh recollects how frustration would creep up now and then amid his preparation. Some people used to demotivate him and tell him that he would not accomplish his ambition. 
On one such occasion, he ended up giving the Uttar Pradesh Public Service Commission examination in which he got through. It was then that he realised that what people say does thought cannot define his ability. 
"You decide what to do. If you have the ability to crack UPSC, then give the exam, then UPSC exam is preferred," he says. 
In the same year, UPSC also included the Indian Railway Personnel Service cadre. After taking a year's leave, he prepared again and got through the Indian Audit and Accounts Services cadre in 2019. 
Bhanu Pratap attributes his success to family and friends, saying that his wife and friends encouraged him whenever he was disappointed. They always urged him to try harder for a good result.
Bhanu Pratap's interview was also done in Hindi only. He says that when one appears before the interview board, they test your personality. Among other things, the committee assesses whether you are familiar with the concept of the welfare state and whether the person has a gender bias. 
His interview lasted 20 minutes. The questions that were asked in the interview included:
1) What is the system to prevent disaster in the country. Why is this system not effective? There has been a loss of life and property due to the cloudburst in Chamoli. 
Response: There is a National Disaster Management Authority, State Disaster Management Authority and District Disaster Management Authority. The NDMA makes plans to deal with disasters. Its chairman is the Union Home Secretary. There is also a provision of the National Disaster Response Fund. The problem is that there has been a lot of investment in climate-vigilant infrastructure in the country. If we look at Japan and the United States, there has been a lot of investment in disaster-resilient infrastructure. We are not psychologically prepared for disasters. We are not ready to accept that disasters are a part of our life. There is a saying in Japan that fewer people die from earthquakes than buildings. There are many departments in the country which ignore the disaster and do not release the budget. As a result of that, when disasters happen. There is more loss of life and property in it. 
2) Why did you take Hindi literature when you have done B.Sc? 
Response: I thought, why not select the same subject in which I did my graduation. I thought about Physics. I went through the questions and answers of previous years' main examination papers. I gave it a good thought and decided. Honestly, I admit that I did not have that level of expertise in the subject. So I thought it is better to choose a topic in which I feel comfortable. That subject was Hindi literature. That is why I picked that up. 
3) Pegasus has been making news. Is there any provision in the country that lets you record someone's phone? 
Response: It can be done following the procedure established by law; otherwise, it would be unlawful. Because according to Section 53 of the Telegraph Act and Section 69 of the IT Act, there is a procedure for permission to record a phone. The consent of the secretary in the Ministry of Home Affairs has to be taken in this regard, and the exercise will not be for more than three months. State's security, sovereignty, integrity, relations with foreign states, law and order are the basis on which permissions can be accorded. If the government is recording individuals' calls for reasons other than this, then it is wrong. Although this has not yet been substantiated, one cannot say whether the (Pegasus) claims are true or false based on media reports only. 
4) What is the role of a citizen in environment protection? 
Response: Citizens should not spit in public places. Electricity must be conserved. Garbage should not be thrown in the open. These are priorities for citizens. The citizen should cooperate with the police. 
Bhanu Pratap also has a word of advice for youngsters preparing for UPSC exams. 
1) Youngsters should shape their perspective on the lines of UPSC's expectations. UPSC needs students with interdisciplinary ability -- utilising the information from one subject with other subjects. 
2) Candidates must develop analytical ability. 
3) Candidates need to be adaptable and must have integrity. 
4) Practice writing as many answers as possible for the main exam. 
5) Minimise stress, as stress negatively affects your performance. 
6) Pay attention to your hobbies. They will increase your creativity and reduce stress. 
7) Don't look at the UPSC exam as a year's hard work. Treat it as a long term target.
8) Don't decide to join the civil services just because your neighbour is preparing for it. Be mentally strong.
9) Candidates must develop common sense.
Also Read: Indra Nooyi reveals she has 'never, ever, ever' asked for raise; Read details
Last Updated Oct 12, 2021, 12:56 PM IST