Union Budget 2023: From briefcase to made-in-India iPad; take a look at the transition of the budget
Union Budget 2023: All eyes will be on finance minister Nirmala Sitharaman who broke tradition last year and ditched the traditional 'Bahi Khata' to opt for a 'Made-in-India' iPad. Here's everything you need to know about the transition.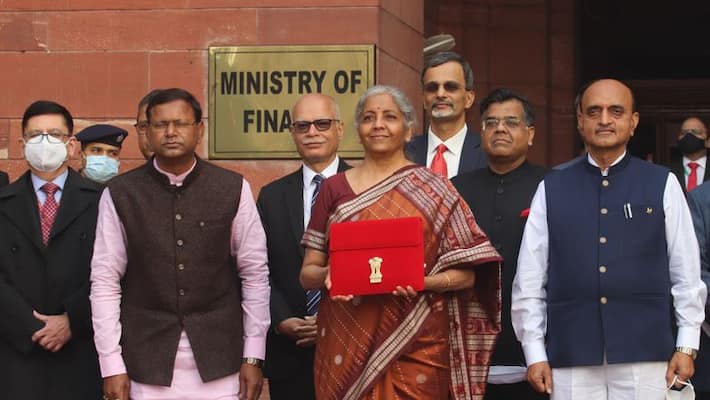 Ahead of the Union Budget 2023, all eyes will be on Finance Minister Nirmala Sitharaman, who broke convention last year by choosing an iPad that was "Made in India" rather than the customary "Bahi Khata". The iPad also made waves since it was housed in a crimson cover that featured the Indian government's logo. A "Bahi Khata," or briefcase, is customarily owned by the finance minister and used to transport the yearly financial summary to Parliament.
The Union finance minister poses with the budget bag outside of Parliament on Budget Day. RK Shanmukham Chetty, the first finance minister of independent India, had a leather portfolio with him when he delivered the first budget in 1947.
Also Read | Union Budget 2023: GDP to Economic Survey & more; Annual budget terminology decoded
The French term "bougette," which meaning a leather briefcase, is where the word "budget" first appeared. The British gave India the custom of carrying an inexpensive briefcase. Before giving the Budget Speech, the Chancellor of the Exchequer (Britain's Finance Minister) stands with his bag in front of 11, Downing Street.
The budget briefcase used by India was a replica of the "Gladstone box" used by the British budget. William E. Gladstone, the head of the British budget at the time, carried his stack of papers in a scarlet briefcase with the gold-embossed monogram of the Queen. It earned the moniker "Gladstone Box."
From 1970 through 2019, Indian finance ministers began carrying a hardbound briefcase. Its form and colours used to change, unlike Britain.
Also Read | Union Budget 2023: Defence and aerospace industry's wishlist for FM Nirmala Sitharaman
To carry the Union Budget Papers in 2019, Sitharaman abandoned the colonial heritage of a budget briefcase in favour of a "Bahi Khata." The 'Bahi Khata' reappeared in 2020 before being replaced by a 'Made in India' iPad.
Another old budget tradition was broken during the Atal Bihari Vajpayee government when the then Finance Minister, Yashwant Sinha, presented the budget at 11 am instead of 5pm. Since then, governments have maintained the schedule of 11 am for presentation of budget.
Also Read: Budget 2023 expectations: National Logistics Policy implementation, tax sops for manufacturing sector
Last Updated Jan 31, 2023, 8:06 AM IST