Turkey, Syria earthquake: Apple, Google pledge to donate to relief, recovery efforts
Tim Cook, the CEO of Apple, and Sundar Pichai, the CEO of Google, both expressed their condolences and said that their respective firms will contribute to the relief and recovery efforts for those impacted by the earthquakes in Turkey and Syria.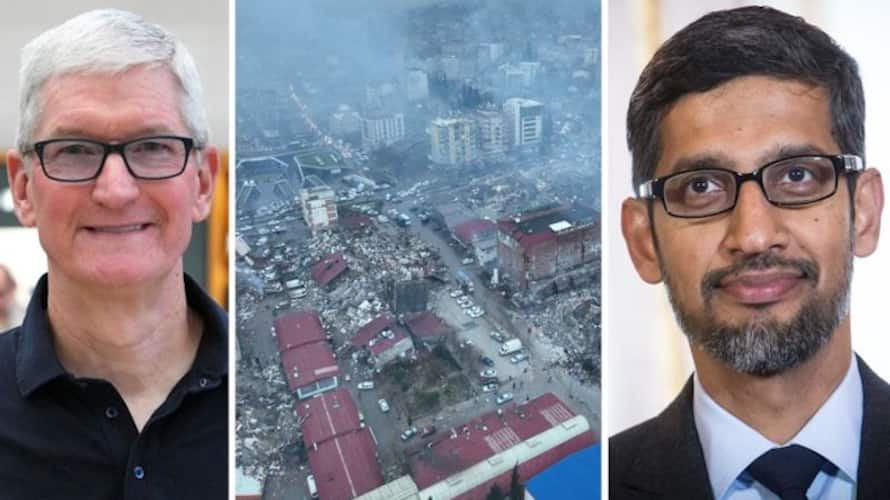 The tremendous earthquakes that struck Turkey and Syria on Monday, resulting in significant loss of life and property, were witnessed by the whole globe in shock. On Twitter, Google CEO Sundar Pichai and Apple CEO Tim Cook sent their sympathies to the affected people. Additionally, they have stated that both businesses would make donations to help the afflicted individuals with relief and recovery efforts.
Tim Cook, the CEO of Apple, tweeted, "Sending our thoughts and sympathies to the people of Turkey, Syria, and everyone affected by the catastrophic earthquakes. Apple has confirmed a donation to the cause. Apple will contribute to the relief and restoration operations."
Also read: Dutch expert 'predicted' Turkey earthquake 3 days ago!
Google CEO Sundar Pichai, on the other hand, wrote that the company has activated 'SOS alerts' that will help in providing emergency information to the impacted people. Additionally, he stated that both Google and its workers would contribute to helping those who were on the verge of catastrophe.
Also Read | Deadly 7.8 Turkey earthquake reminds the world of 1999 tremor
Also Read | Earthquake in Turkey, Syria: Horrific visuals of most-powerful earthquake in a century stun the world
Today, India has delivered its first shipment of aid supplies as well as NDRF troops to Turkey. Taking to Twitter, MEA wrote: "India's Humanitarian Assistance and Disaster Relief (HADR) capabilites in action. The 1st batch of earthquake relief material leaves for Türkiye, along with NDRF Search & Rescue Teams, specially trained dog squads, medical supplies, drilling machines & other necessary equipment."
For those who are unaware, a magnitude 7.8 earthquake struck Turkey and Syria, resulting in the collapse of large apartment buildings, the destruction of hospitals, and the injury or eviction of thousands of people. Following this, Turkey was hit by two further earthquakes, of magnitude 7.6 and 6.0. Rescue efforts are in progress as the tragedy's death toll passes the 4000 mark.
Also Read | Earthquake in Turkey and Syria: How satellites can play a major role in rescue efforts
Last Updated Feb 7, 2023, 1:30 PM IST