Petrol, diesel prices today: Check September 5 fuel rates in Delhi, Noida, Bengaluru and other cities
Stay informed about daily petrol and diesel prices, which are updated at 6 am by oil marketing companies. While many regions observe consistent prices, a few cities may encounter slight fluctuations.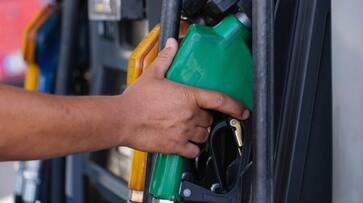 Amidst fluctuating fuel prices affecting various Indian states, it's notable that major cities, including New Delhi, Kolkata, Mumbai, and Chennai, experienced no changes in petrol and diesel rates on Monday (September 4). These daily price updates, whether steady or revised, are announced at 6 am and can vary between states due to factors such as value-added tax (VAT), freight charges, and local taxes.
Meanwhile, significant price reductions have been observed in Maharashtra, where petrol costs have decreased by Rs 1.01, and diesel by 97 paise. West Bengal also witnessed a drop, with petrol prices down by 48 paise and diesel by 45 paise. Similarly, Rajasthan, Punjab, Haryana and Tamil Nadu have all experienced reductions in both petrol and diesel rates.
In India, fuel prices are determined by oil marketing companies (OMCs) like Indian Oil, Bharat Petroleum, and Hindustan Petroleum, and these rates are adjusted daily based on global crude oil prices.
Delhi
Petrol: Rs 96.72    
Diesel: Rs 89.62
Lucknow    
Petrol: Rs 96.57
Diesel: Rs 89.76
Noida    
Petrol: Rs 96.79   
Diesel: Rs 89.76
Mumbai
Petrol: Rs 106.31    
Diesel: Rs 94.27
Chennai
Petrol: Rs 102.63    
Diesel: Rs 94.24
Kolkata
Petrol: Rs 106.03    
Diesel: Rs 92.76
Bengaluru    
Petrol: Rs 101.94    
Diesel: Rs 87.89
Chandigarh    
Petrol: Rs 96.20    
Diesel: Rs 84.26
Gurugram    
Petrol: Rs 97.18
Diesel: Rs 90.05
Jaipur
Petrol: Rs 108.22  
Diesel: Rs 93.48
Last Updated Sep 5, 2023, 8:29 AM IST