Petrol, diesel prices on October 28: Check fuel rate in Mumbai, Delhi, Noida and more
Petrol, Diesel Prices on October 28: Keep yourself updated on the daily petrol and diesel price changes, as oil marketing companies release these updates at 6 am. While most areas experience stable pricing, some cities might encounter minor fluctuations.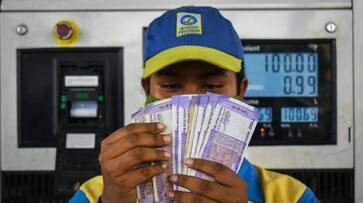 Petrol and diesel prices in India on Saturday, October 28, remained unchanged. In the national capital Delhi, the petrol price continues to be at Rs 96.72 per litre, while diesel at Rs 89.62 per litre. Diesel was priced at Rs 94.27 per litre in Mumbai, while petrol cost Rs 106.31 per litre.
Every day at six in the morning, the rates for petrol and diesel are announced, whether they are new or steady. However, because of value-added tax (VAT), freight costs, municipal taxes, etc., these differ from state to state.
According to a notification by government oil marketing companies, petrol in Kolkata was selling at Rs 106.03 and diesel at Rs 92.76 per litre. On the other hand, in Chennai, petrol is being sold at Rs 102.63 and diesel at Rs 94.24 per litre.
New Delhi
Petrol price: Rs 96.72
Diesel price: Rs 89.62
Mumbai
Petrol price: Rs 106.31
Diesel price: Rs 94.27
Chennai
Petrol price: Rs 102.86
Diesel price: Rs 94.46
Kolkata
Petrol price: Rs 106.03
Diesel price: Rs 92.76
Bengaluru
Petrol price: Rs 101.94
Diesel price: Rs 87.89
Noida
Petrol price: Rs 96.79
Diesel price: Rs 89.96
Last Updated Oct 28, 2023, 10:00 AM IST