Auto Expo 2023 Exclusive: 'People falling in love with Hector, more the better...' MG Motor India CCO
In an exclusive interview with Asianet Newsable's Gargi Chaudhry, Gaurav Gupta, CCO of MG Motor India and Rajeev Chaba, President and Managing Director spoke about the future of electric vehicle, Indian auto market and newly launched next-gen MG Hector. Check out full video here.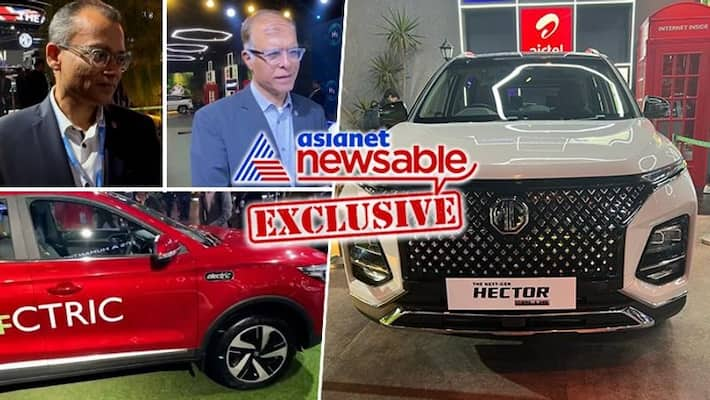 At Auto Expo 2023, MG Motor announced prices for the facelifted Hector and Hector Plus SUVs. In an effort to assess customer interest in India, the automaker has also shown a number of cars from its global lineup. These include vehicles like the MG eHS SUV, MG eRX5 SUV, MG eMG6 hybrid sedan, and Marvel R, among others.
Speaking exclusively to Asianet Newsable, Gaurav Gupta, CCO of MG Motor India, shared the importance of Auto Expo 2023 and called it a big platform where all manufactures come together to showcase what they see as the future of the industry. "The Indian market has grown really well. We are the third automotve industry in the world. This will only grow further," Gupta said while reacting to the fututre of the auto industry.
Also Read | Auto Expo 2023 Exclusive: Hyundai COO reveals what makes IONIQ 5 different
Expressing his views on Make in India push, he said, "We are based out near Baroda. We are producing MG Hector, MG Astor and premium MG Gloster from there only. We have a large dealer network which helps for better customer relations. Additionally, the new technologies MG brings to India includes internet technology, plug-in hybrid and more."
"It's unfortunate that we all faced such situations over the past 2 years which was beyond our control. We do see a sign of easing some of supply constraints and logistics. The 2023 calender year will more smooth and more balanced," he said on the gap between the production and deliveries.
Speaking on the newly launched next-gen MG Hector, he said, "It's a fantastic. MG Hector from the beginning has a great fan following. In 2019 and 2021, we had an upgrade. With this next-gen MG Hector which is bold and real with an 14-inch screen and ADAS-level features are there. More and more people are falling in love with it; and more the better." 
Also Read | Auto Expo 2023 Exclusive: Maruti Suzuki's Jimny gameplan for India
Meanwhile, Rajeev Chaba, President and MD of MG Motor India, said, "The industry has done very well last year and this year, I hope 8-9% growth should happen." He further acknowledged the supply chain disruptions. "Some did better than us, we are cathcing up and this year, I hope the supply chain will be better," he added.
While concluding the interview, he spoke about the newly launched MG Hector. "We have refreshed it and we already received a good response on it. It remains or flagship product," he said.
Last Updated Jan 15, 2023, 12:40 PM IST