WATCH: Elon Musk enjoys cigar as Joe Rogan tests Tesla Cybertruck's resilience with an arrow
Tesla CEO Elon Musk and Joe Rogan test Cybertruck's durability with an arrow in a podcast, highlighting its bulletproof features and high-performance capabilities.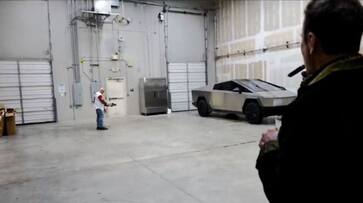 Elon Musk and renowned US commentator and comedian Joe Rogan recently engaged in a podcast where the billionaire divulged details about Tesla's upcoming Cybertruck. The conversation unfolded with Rogan challenging Musk after the Tesla CEO boasted about the truck's bulletproof nature, suggesting he could breach the Cybertruck's exterior with a broadside arrow.
Also read: Elon Musk slams George Soros: 'He is doing things that erode fabric of society' (WATCH)
During the conversation, Rogan inquired, "Can I try it with an arrow?" To which Elon Musk confidently replied, "Yeah, it'll be fine."
In a now-viral video, Joe Rogan is depicted firing an arrow from close range at the Cybertruck's stainless steel body to test its durability. Surprisingly, instead of penetrating the Cybertruck, the arrow merely caused a small dent and destroyed the arrowhead. Meanwhile, Elon Musk can be seen enjoying a cigar in the background before inspecting the vehicle.
Elaborating on the Cybertruck's capabilities during the podcast, Musk emphasized that the vehicle will feature bulletproof steel panels. Additionally, there will be an option for customers to purchase bulletproof glass for the truck. Musk explained that the panels underwent testing using firearms such as a Tommy gun, a 45-millimeter gun, and a 9-millimeter gun.
Musk also highlighted that the "beast mode" version of the Cybertruck aims for a 0-60 mph (96 km/h) acceleration time of "under three seconds."
The Cybertruck, unveiled by Tesla in 2019, exhibits a futuristic design, incorporating stainless steel similar to that used in rockets. The electric vehicle boasts a distinct geometric appearance. According to the Tesla website, the truck promises "better utility than a truck with more performance than a sports car."
The Cybertruck is estimated to offer a range between 250–500 miles (400–800 km) and an estimated 0 to 60 mph time ranging from 2.9–6.5 seconds.
Tesla has confirmed the commencement of vehicle deliveries on November 30, but Elon Musk cautioned about the challenges of scaling up production for the vehicle.
Also read: X is now worth $19 billion, less than half of what Elon Musk paid to buy it
Last Updated Nov 1, 2023, 5:23 PM IST