India, United States elevate strategic partnership with launch of iCET
US-India ties: During the meeting, the two sides also reviewed ongoing bilateral initiatives, the upcoming launch of the Initiative on Critical and Emerging Technologies (iCET), and shared assessments of major global and regional developments.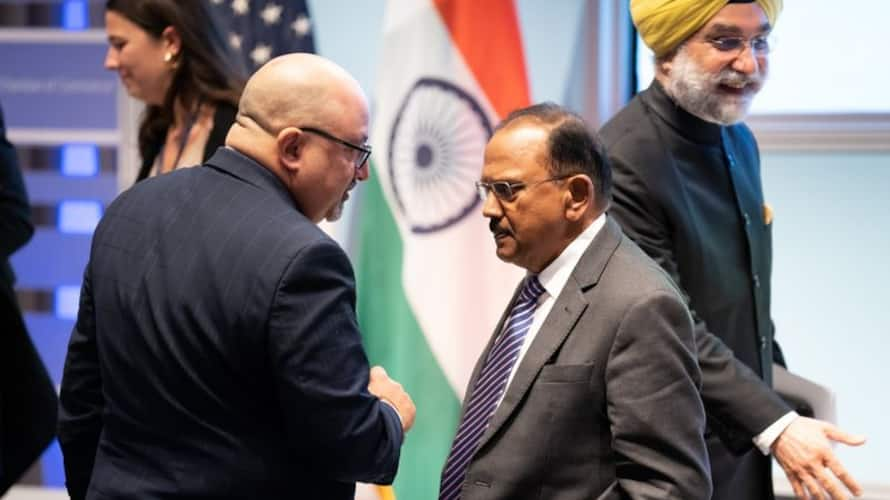 The launch of the initiative on Critical and Emerging Technology, or iCET, has strengthened the strategic alliance between India and the US, the White House declared as National Security Advisor Ajit Doval visited his American counterpart Jake Sullivan in this location.
Following the conclusion of the iCET inaugural meeting between Doval and Sullivan on Tuesday, the White House released a fact sheet stating, "We are committed to fostering an open, accessible, and secure technology ecosystem, based on mutual trust and confidence, that will reinforce our democratic values and democratic institutions."
iCET is being established on the orders of US President Joe Biden and Indian Prime Minister Narendra Modi, who promised, following their meeting in Tokyo in May 2022, to strengthen and broaden their strategic technology partnership and defence industrial cooperation between their respective governments, companies, and academic institutions.
Also Read | Amidst Hindenburg row, Adani meets Israel PM; to set up AI lab in Tel Aviv, real estate in Haifa
"The United States and India declare that our shared democratic ideals and respect for all human rights should guide how technology is invented, developed, managed, and used. We are dedicated to establishing an open, approachable, and safe technological environment, built on mutual trust and confidence, that will support our democratic institutions and ideals," the White House said.
High ranking representatives from both sides joined Doval and Sullivan at the meeting. The two parties talked about strategies to expand connectedness across our innovation ecosystems, prospects for more cooperation in essential and emerging technologies, co-development and co-production, and more.
Also read: Gautam Adani slips out of top 10 billionaires' list, loses around $8 billion in net worth
They emphasised the importance of building "innovation bridges" in important industries, including through expos, hackathons, and pitch events. According to the White House, they also recognised biotechnology, sophisticated materials, and rare earth processing technologies as potential areas for future collaboration.
The first category focuses on enhancing the innovation ecologies in the US and India. A joint Indo-US Quantum Coordination mechanism was also revealed as part of the agreement, which would enable better communication between a consortium of top American researchers and quantum industry participants and their Indian counterparts.
On the defence front, the iCET unveiled a new roadmap for bilateral defence industry collaboration that aims to speed up collaborative development and production of defence technology with an initial focus on jet engines and other technologies. Other initiatives in the defence category include building a new innovation bridge between the US and India.
Also Read | Violence breaks out over Khalistan referendum in Australia; India raises concerns with authorities
"We're also looking at ways to identify opportunities for commercial space actors in both countries to collaborate, especially with respect to activities led to NASA's Commercial lunar payload services project," he said. Later this year, the NASA administrator is slated to visit India.
The two parties also announced new collaborations in research and development and technology, as well as a new public-private dialogue on advanced communications and associated legislation, the official added.
Also read: UK PM Rishi Sunak sacks Conservative Party Chairman Zahawi over tax penalty row
(With PTI inputs)
Last Updated Feb 1, 2023, 9:31 AM IST