Fascinating! Skull found in China reveals advanced brain surgery performed 2,700 years ago
Ancient skull unearthed in China displays intricate brain surgery executed 2,700 years ago, shedding light on early medical practices.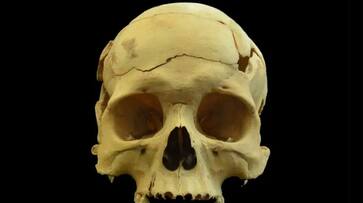 Archaeologists have made a fascinating discovery in Xinjiang, China, unearthing an ancient record of sophisticated brain surgery. The findings, reported by New Scientist, reveal evidence of a surgical procedure performed on a perfectly preserved human skull, indicating a form of cranial surgery dating back roughly 2,700 years in China.
The skull was uncovered at the Yanghai cemetery, a significant ancient burial site in Xinjiang. This burial ground belonged to a clan practicing shamanism, a belief system involving trance-like states to interact with the supernatural. Qian Wang and a team of researchers from Texas A&M University examined a skull belonging to a man who lived between 750 and 800 BC using CT scans.
Also read: Viral Video: Man stuffing live worms inside momos in China leaves internet disgusted (WATCH)
Analysis revealed that the man had suffered a head injury, resulting in an epidural hematoma, a dangerous accumulation of blood beneath the skull. This condition can exert significant pressure on the brain and can be life-threatening.
In a procedure resembling a modern craniotomy, it appears that the injured individual underwent a surgical intervention conducted by what is presumed to have been a shaman doctor. A portion of the skull was removed to address the injury and alleviate the hematoma. Craniotomies, still performed today, are used for head trauma and to alleviate intracranial pressure, among other medical reasons.
Remarkably, the person survived the ancient surgical treatment and continued to live for at least eight weeks, as indicated by signs of healing along the fracture lines.
Describing the surgery, one of the researchers stated, "The doctor was able to design a bone flap according to the injury by using the fracture lines." This craniotomy, according to Wang, represents the most advanced and skilled procedure of its kind discovered in the broader Eurasian region.
While the evidence doesn't definitively prove that a shaman doctor performed the surgery, other discoveries in the area suggest this theory. For instance, one individual at the Yanghai cemetery was identified as a shaman due to the presence of surgical instruments—a bronze knife and a pointed awl—hanging from their waist. Moreover, there is evidence of cannabis use as an anesthetic at the burial site.
The findings shed light on the remarkable surgical capabilities and practices of ancient cultures, providing intriguing insights into early medical interventions and the use of anesthesia during medical procedures in ancient times.
Last Updated Nov 8, 2023, 4:53 PM IST