Viral Video: Man stuffing live worms inside momos in China leaves internet disgusted (WATCH)
The article delves into a viral video showcasing unsettling practices in Chinese street food with live worms stuffed in Momos, triggering diverse reactions.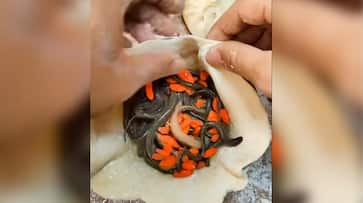 The emergence of a disturbing video depicting the preparation of Chinese street food has both intrigued and horrified viewers, particularly those fond of Momos. Shared on the Instagram account 'Chinese Street Food 2023,' the video showcases a man filling Momos with live creatures that strikingly resemble worms. This unsettling clip unfolds as the man stuffs these creatures alive into the dumplings. Additionally, the video depicts the steaming of these dumplings and, later, the unveiling of the cooked ingredients, garnering substantial attention across various social media platforms.
Reactions to the video have been diverse and largely critical. One user expressed frustration, commenting, "Chinese food is really annoying."
Another user highlighted the abundance of food choices available to humans and questioned the necessity of consuming such items.
They stated, "We humans have better things to eat, the choices are unlimited, so why eat this? I can't even watch this properly, forget about eating it."
The unsettling nature of the video also drew visceral reactions, with one user humorously calling for a "vomiting button."
Meanwhile, another individual connected the food to a cultural perception, remarking, "No wonder the Chinese are always angry. That kind of food makes people mad."
Amidst this disquieting food revelation, a separate incident in Chandigarh intensified concerns about food hygiene and safety. Ranjot Kaur, a resident of Chandigarh, reported finding a 'live worm' in her Chipotle Chicken Rice dish at Chili's restaurant in Elante Mall. Kaur alleged the presence of a moth larva or worm in her nearly finished meal, indicating lapses in quality and hygiene standards.
The juxtaposition of these incidents underscores the significance of food safety and quality standards, prompting conversations about the integrity and safety of food served across various establishments.
Also read: Shocking! 22-year-old Italian woman gets 20 body modifications to transition into a cat; plans for more
Last Updated Nov 2, 2023, 6:02 PM IST