INDIA allies lack clarity on key questions: Ex-PM Deve Gowda
Former Prime Minister HD Deve Gowda has strongly criticized West Bengal Chief Minister Mamata Banerjee's statement regarding early Lok Sabha elections. Deve Gowda expressed his outrage during a media interaction in Bailahalli, Hassan, highlighting the political tensions ahead of the upcoming Lok Sabha elections.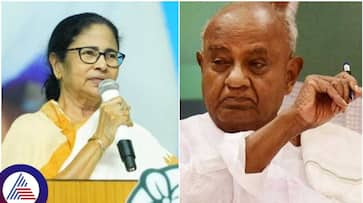 Deve Gowda questioned the statements made by leaders of the I.N.D.I.A Union, pointing out the lack of clarity regarding key aspects such as the selection of a prime ministerial candidate and the convenor of the union. 
He also mentioned a committee formed within the union tasked with creating a common minimum program but emphasized that elections are still several months away.
Ex-Karnataka CM Jagdish Shettar claims ticket-selling scandal in BJP
The former Prime Minister inquired about the absence of a one-to-one candidate option and shared insights into his interactions with leaders in the Indian Union. 
Despite the unity among 28 parties against the BJP and Prime Minister Narenrda Modi, Deve Gowda expressed his frustration with the delay in announcing candidates for the upcoming elections.
Regarding the sensitive Cauvery water issue, Deve Gowda revealed that he may personally approach the Prime Minister when the time is right to address the matter. He refrained from making any further comments at this time.
Deve Gowda also pledged his unwavering commitment to his regional party, promising to tour selected districts ahead of the elections under the leadership of GT Devegowda. He asserted his determination to fight for the party until his last breath, emphasizing the significance of regional parties in the political landscape.
In a show of support for his son, former Chief Minister Kumaraswamy, who recently faced health issues, Deve Gowda visited various temples and offered prayers in his hometown, expressing his wishes for the family's well-being.
Last Updated Sep 3, 2023, 4:45 PM IST