IIT Madras students create 'Avishkar Hyperloop': Vacuum-powered pod to travel 350 km in just 30 mins
IIT Madras has developed the 'Avishkar Hyperloop' prototype, aiming to reduce the Chennai-Bengaluru journey from 7.5 hours to 30 minutes. The project, a finalist in Elon Musk's SpaceX Hyperloop competition, could revolutionize transportation with its high-speed, low-emission technology, supported by a Ministry of Railways grant.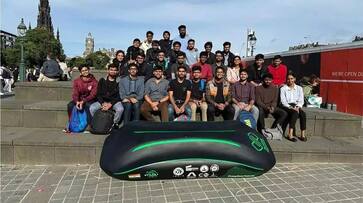 A team from the Indian Institute of Technology (IIT) Madras has created the 'Avishkar Hyperloop,' a prototype that could drastically change travel between Chennai and Bengaluru. This innovation aims to reduce the 350-kilometre journey from lengthy seven-and-a-half hours to a mere 30 minutes.
The Avishkar Hyperloop, the only Indian entry to reach the finals of Elon Musk's SpaceX International Hyperloop Pod Competition, gained recognition during an event in Edinburgh.

IIT-Madras to BITS Pilani-7 top engineering colleges in India
Hyperloop technology offers a new way of travelling at high speeds, similar to a train, but inside partial vacuum tubes. Unlike planes, which can be noisy, polluting, and require large airports, Hyperloop pods reach incredible speeds of up to 1200 kilometres per hour while emitting no carbon emissions. With precise scheduling, passengers can save a significant amount of time.

Afghanistan woman builds secret home 'lab', beats Taliban ban; bags IIT-Madras degree
Medha Kommajosula, the leader of the student team behind the project, mentioned, "This year we came very close to validating our idea. We are on the way to proving this experiment in our imagination with a physical experiment. If we continue our work at the current pace, we will definitely be able to build our first Hyperloop train in the next 10 years."
Supported by a grant of Rs 8.34 crore from the Ministry of Railways, this groundbreaking project has the potential to reshape India's transportation and showcase the country's technological prowess to the world.
Last Updated Oct 10, 2023, 2:52 PM IST