Nick Kyrgios withdraws from Adelaide International 2; fans concerned if he will be fit for Australian Open
Nick Kyrgios has been dealt a huge blow in his bid to feature in the Australian Open 2023 after the tennis star withdrew from another warm up event - the Adelaide International 2.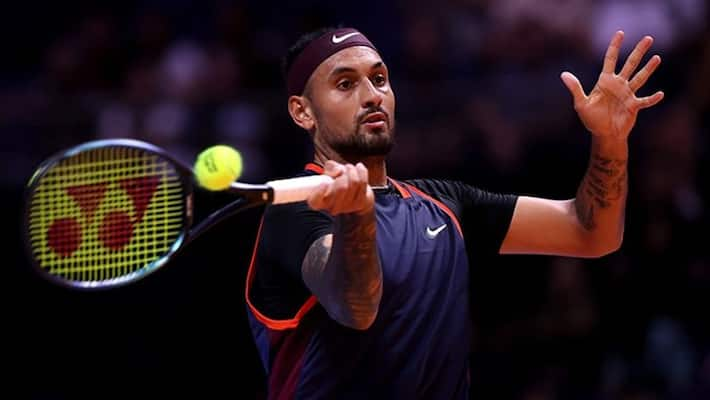 In what comes as a blow to Nick Kyrgios fans, the tennis star has withdrawn from another warm-up event sparking concern over his bid to feature in the upcoming Australian Open 2023.
Kyrgios won't compete in the Adelaide International 2 on January 10 after upsetting his compatriots by withdrawing from the United Cup one week prior. The Aussie won't play in the second week of the competition, according to tournament organisers, due to an injury.
"The Adelaide International can confirm that Nick Kyrgios will not compete in Week 2 of the tournament," a statement obtained by News Corp read.
"The event is clearly disappointed in this decision as would be the fans who support him, but injury happens and health is always the priority. The Adelaide International wishes Nick Kyrgios the best of luck and a quick recovery, understanding the importance of the Australian Open preparation. He is welcome back to the Adelaide International anytime," the statement added.
Also read: Indian tennis star Yuki Bhambri quits singles, targets doubles Grand Slam success
The Australian Open 2023 will begin on January 16, and it remains to be seen if the home favourite will be fit for yet another stellar show at the year's first Grand Slam event in Melbourne.
Since his withdrawal from the United Cup, Kyrgios has faced a lot of flak, with some stating that the Aussie is preserving himself for the upcoming Grand Slam. He has also been embroiled in a war of words with tennis legend Lleyton Hewitt, who was far from impressed with the 27-year-old's eleventh-hour exit.
However, Kyrgios' manager Daniel Horsfall told The Age that the tennis star's team is working round the clock to ensure he is fit for the Australian Open 2023. "We are very excited and working every day to make sure we're ready for the Australian Open. A lot of people were upset after he pulled out of the United Cup, but I hope they now realize the injury is genuine. I wish more people would ask questions before putting in their two cents," he said.
"Nick Kyrgios has already sorted out his excuse before the @AustralianOpen.  Has an ankle injury that we will all see if / when he starts to lose. I can't wait for the next fail," said one tennis enthusiast sarcastically on Twitter.
Another user mockingly noted, "Must be those Jordan shoes."
Also read: Adelaide International 2023: Novak Djokovic earns first win in Australia since deportation
Here's a look at how tennis fans reacted to Kyrgios' withdrawal from yet another warm-up tournament ahead of Australian Open 2023:
Last Updated Jan 4, 2023, 7:17 PM IST