Formula 1: Carlos Sainz ends Verstappen's streak with Singapore Grand Prix victory
Carlos Sainz emerged victorious at the Singapore Grand Prix, bringing an end to Max Verstappen's incredible 10-race winning streak. In a thrilling race, Sainz managed to hold off charging competitors, including George Russell and Lewis Hamilton, as they battled on the Marina Bay street circuit.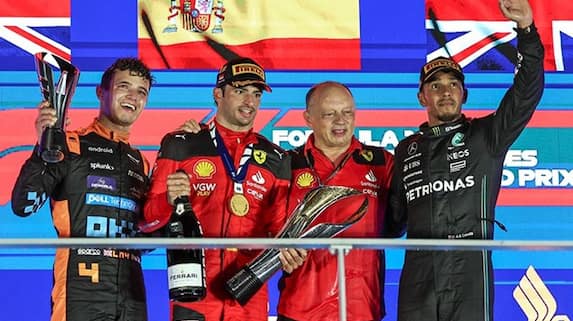 The Singapore Grand Prix delivered an unexpected twist as Carlos Sainz clinched victory, putting an end to Max Verstappen's 10-race winning spree. In a dramatic race that saw George Russell's late crash and a virtual safety car period, Sainz held his ground, securing his second career win. Lando Norris and Lewis Hamilton completed the podium, while Red Bull's dominance in the 2023 season was finally challenged, leaving fans eagerly anticipating the remainder of the Formula One season.
Here are 10 key points from the Singapore Grand Prix:
- Carlos Sainz won the Singapore Grand Prix, ending Max Verstappen's 10-race win streak.
- George Russell crashed his Mercedes from third place on the final lap.
- Lando Norris finished second in a McLaren, and Lewis Hamilton came in third.
- Max Verstappen, the championship leader, finished fifth, marking the first time Red Bull failed to win a race in the 2023 season.
- This victory was Sainz's second career win, with his first win at the British Grand Prix at Silverstone the previous year.
- A virtual safety car 20 laps from the end allowed the two Mercedes drivers to change to fresh medium-compound tires.
- Russell and Hamilton closed in on the top two but couldn't pass Sainz, who strategically kept Norris within DRS range.
- Logan Sargeant's incident led to a safety car, causing leaders to pit for fresh tires.
- Verstappen dropped to 15th place after his pit stop, while Russell, Norris, Hamilton, and Leclerc passed him on fresher tires.
- Red Bull's hopes of winning every race in 2023 were dashed in Singapore, ending their streak of 14 consecutive wins that season.
Also Read: Formula One driver Carlos Sainz's bold pursuit; chases down robbers who stole $600k watch
Last Updated Sep 18, 2023, 4:12 PM IST