'Think you will see a different Karim Benzema from now on in 2023' - Carlo Ancelotti
Karim Benzema suffered an unfortunate injury, missing out for France in the 2022 Qatar World Cup. However, Carlo Ancelotti has warned that now that he is recovered, he will portray a different version of himself in Real Madrid.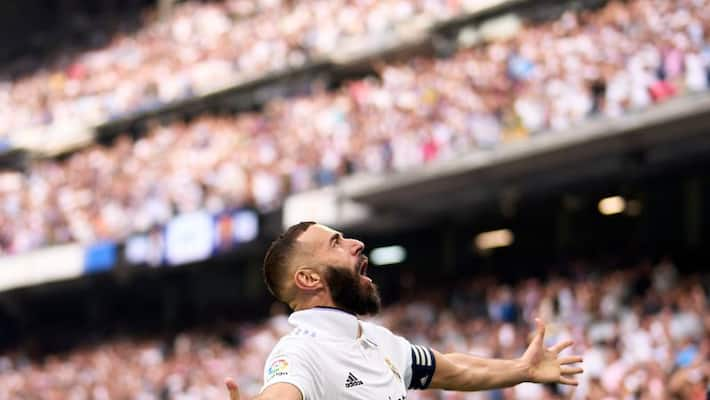 French striker Karim Benzema has been in sensational form since last season, finishing as La Liga's highest goal-scorer and giving Real Madrid Spanish and European success, handing him his maiden Ballon d'Or title. He was looking to make an impact with France during its title defence at the FIFA World Cup 2022 in France, only to miss out with an injury. Nevertheless, he recovered and instantly made an impact again, scoring a brace for Los Blancos during its 2-0 win in Real Valladolid on Friday night. At the same time, Madrid head coach Carlo Ancelotti has warned of a different version of the Frenchman.
Lecturing to DAZN following the victory, Ancelotti cautioned, "I see Benzema very motivated, and I think you will see a different Benzema from now on in 2023." He further spoke on his team's performance: "There is a lot of good news from this game. The result first, the performance of Thibaut [Courtois], the two goals of Karim."
ALSO READ: 'Happy to have Casemiro; he is raising the limits for Manchester United' - Erik ten Hag
"We finished this year. That was an amazing year, in the best way. It wasn't easy. We started well. Then, we had difficulties, did well first half, and did well at the end of the game. It's quite normal after you come back after a long holiday. It's not easy," added Ancelotti while talking to La Liga TV, reports FotMob.
On being asked about the re-integration of the side after an unusual winter break, Ancelotti concluded, "We have players with different conditions. Some players arrived yesterday. They also didn't have their break, only ten days. There's not much time to put all of them in good condition. We have to work on this."
Last Updated Dec 31, 2022, 3:08 PM IST