Child remains in coma while doctors resume duty after six-month suspension
Doctors resume duty after a six-month suspension
Mariyam, now a six-year-old patient, continues to remain in a coma
She had come in for a fracture surgery
Doctors had given her an overdose of anaethesia
She has been in a coma for three years now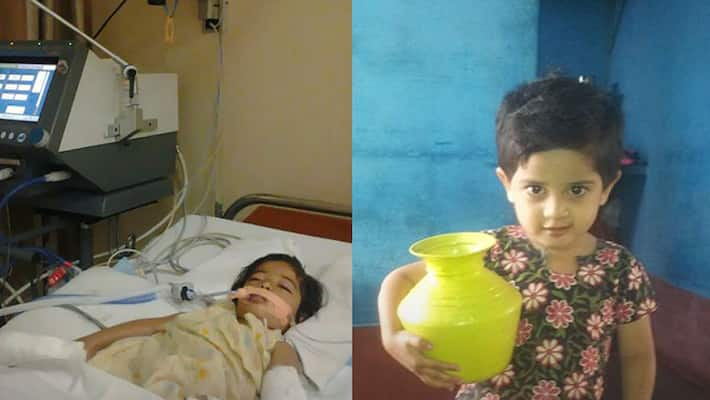 Mariam Kousar continues to remain in a vegetative state after a major goof-up by doctors at Sanjay Gandhi Hospital, Bengaluru.
Three-year-old Mariam was admitted for a minor fracture in December 2013. She was operated on her left hand, and was supposed to recover in three hours, but instead has been three years.  

How did this happen? An overdose of anaesthesia damaged her brain.
The team comprising Dr Prakashappa, Orthopedic Unit Head; Dr Shivalingaiah, HoD Anaesthesia; Dr Surangma Tripathi, and Dr Deepak had outsourced anaesthesia specialists who were part of the surgery. They had promised the relatives that baby Mariyam would gain consciousness in three hours, but that never happened.  
The issue made national headlines, and under pressure, the outsourced doctors were dismissed from service, while the regular doctors were placed under suspension. 
However, after six months, Dr Prakashappa and Dr Shivalingaiah resumed work, but life for Mariam's father, Mudassar, speaks a different tale.
Mudassar, an AC technician, sold his house because he couldn't afford the treatment for his daughter. Now, he's moved into a smaller house on the city's outskirts – Hoskote –   and travels all the way to Manipal Hospital on Old Airport Road with his six-year-old daughter for physiotherapy and other necessary check-ups once a month. 
BS Rafiullah, the victim's uncle tells Asianet Newsable, that Mudassar has made his house into a small clinic, and the family takes care of Mariyam around-the-clock. She's being fed on a liquid diet through tubes, and a portable ventilator is fixed at home.
 
"The family is frustrated and has left everything to God.  I have taken this case to consumer court, and the case is still on," he said.
Dr. Shivalingaiah has stated that his name was cleared by a committee set up by the Karnataka government, and that the outsourced doctors were held responsible for their negligence. 
Last Updated Mar 31, 2018, 7:03 PM IST