DART mission successfully changed motion of an asteroid, says NASA
NASA on Tuesday said it had succeeded in deflecting an asteroid in a historic test of humanity's ability to stop an incoming cosmic object from devastating life on Earth. It further said DART impactor deliberately smashed into the moonlet asteroid Dimorphos on September 26, pushing it into a smaller, faster orbit around its big brother Didymos.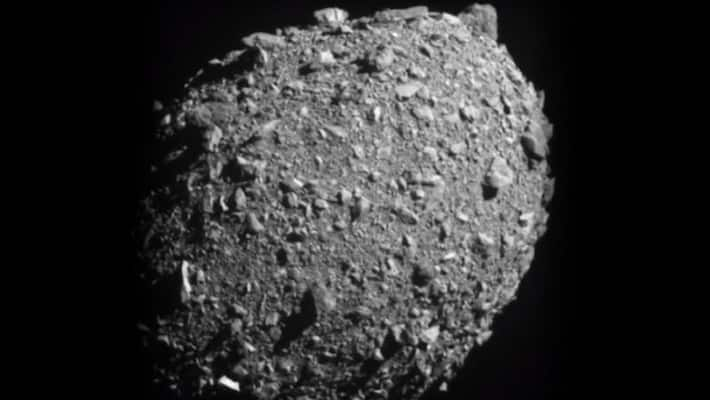 The world's first step towards planetary defence is successful, NASA announced late Tuesday. Results from the Double Asteroid Redirection Test (DART), in which a spaceship was designed to purposefully collide with an asteroid, were positive. 
According to NASA, the experimental spacecraft has changed the asteroid Dimorphos' orbit in accordance with the mission's goals. The American space agency collected and examined data over a two-week period and discovered that the asteroid Dimorphos' orbit around its parent asteroid Didymos had been reduced by 32 minutes as a result of the collision of DART.
Dimorphos took 11 hours and 55 minutes to orbit Didymos before the impact's planned outcome. This has now been changed to 11 hours and 23 minutes.  On September 26, NASA rammed the DART spacecraft into the asteroid. Since that time, astronomers have used telescopes to determine how the orbit of Dimorphos has changed through time. A plus or minus 2 minute range of uncertainty is provided for the measurement.
Also Read | SpaceX Crew-5 astronauts to dock at International Space Station today
NASA predicted that if the impact succeeded, the orbit's period would vary by at least 73 seconds. According to statistics from preliminary study, this benchmark has reportedly been surpassed more than 25 times.
Director of NASA's Planetary Science Division Lori Glaze was reported as stating, "This discovery is one crucial step toward knowing the entire consequences of DART's contact with its target asteroid."
Also Read | ISRO's Mangalyaan runs out of fuel after 8 years of long innings
More information will be added to the assessment over the next several days, which will assist scientists better understand how to protect Earth in the event of an asteroid rushing toward us and causing an approaching impact.
DART hit the asteroid at a collision speed of around 22,530 kilometres per hour. The collision dispersed and sent many tonnes of asteroidal rock, or "ejecta," into space.
Also Read | NASA's James Webb, Hubble Telescopes capture DART asteroid collision
Last Updated Oct 12, 2022, 9:13 AM IST