UAE: IIT Delhi-Abu Dhabi campus to start in January; More top Indian Universities to follow
The Indian Institute of Technology (IIT) Delhi-Abu Dhabi campus will open in January in UAE. Union Minister of Education, Skill Development and Entrepreneurship, Dharmendra Pradhan stated that several Indian Universities will be established in the UAE.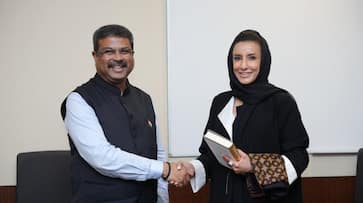 Abu Dhabi: India's Union Minister Dharmendra Pradhan said that in addition to the Indian Institute of Technology (IIT) Delhi-Abu Dhabi campus opening in January, other prestigious schools and universities are scheduled to open in the United Arab Emirates, along with the establishment of a Central Board of Secondary Education (CBSE) office. He noted that education and skills are among the key sectors of strategic partnership with the UAE.
Also read: UAE: British Airways to resume daily flights to Abu Dhabi next year; ticket prices announced
Pradhan who is on a three-day visit to the UAE met the country's Education Minister Dr. Ahmad Al Falasi in Abu Dhabi. They discussed the current state of cooperation in the field of education and looked at more recent initiatives, such as school-to-school exchanges and the establishment of prestigious Indian colleges and universities in the United Arab Emirates.
"Today, the UAE-India has a very strong relationship. We are opening an IIT in UAE. Many prominent universities from India have already come here. More universities can come in the near future. More than 100 schools of CBSE are functional in UAE. We are soon going to open a CBSE office here," the Indian Minister said in Abu Dhabi.
Taking to X, formerly Twitter, the Union Minister wrote, "Pleased to meet HE Sara Musallam, MoS for Early Education and Chairperson, ADEK, in Abu Dhabi today. Productive conversations on further expanding our cooperation in education and establishing education as one of the strongest pillars of our bilateral ties."
"Expressed appreciation towards HE Sara Musallam and the Abu Dhabi leadership for their support  to IIT Delhi-Abu Dhabi campus. IIT Delhi-Abu Dhabi campus will be an exemplar of India-UAE friendship. Our discussion also centred around support required from the Indian side to further facilitate progress of the IIT Delhi-Abu Dhabi campus, ADEK's support to CBSE-affiliated Indian schools functioning in the UAE and our plans to set up an office of CBSE in Dubai. UAE's support to Indian schools has played a critical role in ensuring Indian children in the emirates remain connected to Indian curricula and roots," he added.
Pradhan had a meeting with Sheikh Abdullah bin Zayed Al Nahyan, the Foreign Affairs Minister and the chairman of the Council for Education and Human Resources (EHRC). They discussed prospects for deeper collaboration as well as the changing face of the education sector. The ministers examined the developments of the IIT Delhi-Abu Dhabi campus, which will begin providing a Master's programme in Energy Transition and Sustainability in January.
 
Last Updated Nov 2, 2023, 5:17 PM IST