World Rose Day: Day, history, significance
World Rose Day, on September 22nd, honors cancer patients, promotes early detection, and spreads love and hope through the symbol of roses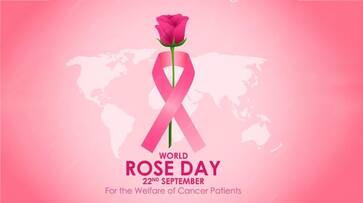 World Rose Day, observed on September 22nd every year, is a day dedicated to spreading love, hope, and compassion to cancer patients and their families. This day holds a special place in the hearts of people worldwide, as it symbolizes the resilience of individuals battling cancer and their unwavering spirit.
History
The history of World Rose Day is deeply rooted in the inspirational story of 12-year-old Melinda Rose, who was diagnosed with Askin's Tumor, a rare form of blood cancer. Melinda's positivity and courage in the face of adversity touched the lives of many. She spent her time in the hospital writing letters, poems, and e-mails to uplift the spirits of fellow patients. Tragically, Melinda lost her battle with cancer, but her legacy of hope and love lived on.
In her memory, a non-governmental organization in India called Cancer Patients Aid Association (CPAA) initiated World Rose Day in 1999. They chose the rose as a symbol because, like life, a rose also has thorns, but its beauty overshadows the pain. The rose represents the duality of life and the hope that beauty can emerge from adversity.
Significance
World Rose Day holds significant importance for several reasons. Firstly, it serves as a reminder of the tremendous physical and emotional challenges faced by cancer patients. It encourages empathy, compassion, and support for individuals undergoing cancer treatment. The symbolic gesture of gifting a rose on this day conveys care and solidarity, showing that no one is alone in their battle against cancer.
Secondly, World Rose Day highlights the importance of early detection and prevention of cancer. Education and awareness campaigns are often organized on this day to inform people about the signs and symptoms of cancer, emphasizing the role of regular check-ups and healthy lifestyle choices in reducing cancer risk.
Thirdly, this day honors the memory of those who have succumbed to cancer by celebrating their strength, resilience, and the love they shared with the world. It offers solace to grieving families and friends, reminding them that their loved ones' legacies continue to inspire hope.
Lastly, World Rose Day encourages individuals to become volunteers or donors for organizations working towards cancer research and patient support. It underscores the collective effort required to combat this formidable disease.
World Rose Day is not just about flowers but about spreading love, hope, and compassion. It honors the memory of Melinda Rose and countless others who have faced cancer with bravery. It reminds us of the power of empathy and the importance of early detection, prevention, and support for those affected by cancer. On this day, let us all come together to offer a rose and a heartfelt message of encouragement to those in need, fostering a world where cancer patients feel valued, loved, and supported.
ALSO READ: National Ice Cream Cone Day 2023: Day, history, significance
Last Updated Sep 22, 2023, 4:55 PM IST