Want to create a cozy corner? Here's how you can utilize unused spaces into comfortable retreats
Uncover five artistic ways to establish comfy and calming corners within your abode to discover moments of serenity and calm. Investigate different approaches to craft cozy areas for rest, reflection, and individual delight in diverse sections of your dwelling.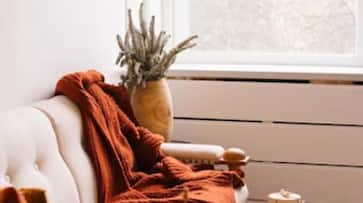 In our rapid world, discovering moments of peace and calmness within the restrictions of our residences has turned into a requirement. One efficient method to accomplish this is by constructing comfortable corners that enable us to relax, peruse, contemplate, or merely relish our personal presence. Here are five methods to create a snug nook in different areas of your abode.

1. Transform a Corner into an Indoor/Outdoor Sanctuary
Have a neglected corner in your living room? Why not convert it into a seamless indoor/outdoor haven? Start by installing large windows or glass doors to merge the interior with the exterior. Place a comfortable padded bench or a pair of snug chairs adorned with cozy throws and cushions. Incorporate potted plants and some ambient lighting to create a peaceful oasis that blurs the boundary between nature and your living space.
Also Read | 8 steps to create minimalist yet stylish wardrobe
2. Establish a Seating Area in Your Bedroom
The bedroom, often associated with rest and relaxation, is the perfect place to carve out a cozy corner. Pick a corner near a window or a snug alcove and create a reading nook. Choose a comfortable armchair or a chaise lounge, accompanied by a small side table to hold your books and a warm cup of tea. Install soft curtains for added privacy, and personalize the space with your favorite artwork or photographs.
3. Utilize L-Shaped Seating in a Corner
Maximize both comfort and functionality by employing L-shaped seating in an underutilized corner of your home. Consider a corner sofa or a built-in bench with plush cushions. This arrangement not only offers ample seating but also provides an inviting space for intimate conversations, movie nights, or quiet contemplation. Don't forget to accessorize with cozy throws and decorative pillows to enhance the comfort.
Also Read | National book lovers day: 6 books you will fall in love with

4. Include Seating in the Corner of a Kitchen
While kitchens are predominantly functional spaces, incorporating a cozy corner can make it a more welcoming area for family members and guests to gather. Integrate a small breakfast nook with a corner bench and a round table. Use comfortable cushions and contemplate adding built-in storage underneath the seating for a practical touch. This corner can serve as a delightful spot for informal meals, morning coffee, or even homework sessions.

5. Transform a Narrow Room into a Cozy Corner
Narrow rooms often pose a design challenge, but they can also be turned into charming cozy corners. Utilize the length of the room by placing a sleek daybed along one side. Layer the daybed with plush bedding, cushions, and bolsters to create an inviting seating area that can also double as a guest bed. Install shelves or wall-mounted storage above the daybed to optimize space and keep essentials within reach.
Also Read | Hydration to collagen production: 7 skin benefits of Apricots

In conclusion, crafting a cozy corner in your home enables you to establish a personal sanctuary for relaxation and reinvigoration. Whether you're repurposing an indoor/outdoor space, adding seating to an underused corner, or creating a snug nook in your bedroom or kitchen, the possibilities are infinite. By considering your space's layout, function, and your personal style, you can design a retreat that brings comfort and tranquility to your everyday life. So, go ahead and embark on this artistic journey to create your own cozy corners!
Last Updated Aug 9, 2023, 12:53 PM IST