Chappan Bhog to Kheer: 7 popular Janmashtami dishes
Popular Janmashtami dishes include Makhan Misri (butter and sugar crystals), Chappan Bhog (56-item feast), Panjiri (nutritious sweet), Dahi Handi (pot-breaking tradition), Poha (flattened rice), Malpua (sweet pancakes), and Khichdi (rice-lentil dish). These offerings and treats are part of the festive celebrations honoring Lord Krishna's birth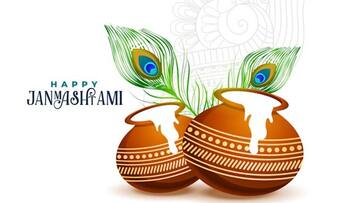 Janmashtami, the celebration of Lord Krishna's birth, is marked by a variety of delicious dishes, many of which are prepared as offerings (bhog) to the deity. Here are seven popular Janmashtami dishes:
Maakhan Mishri: A simple yet traditional offering, Maakhan Mishri consists of fresh homemade butter (maakhan) and crystallized sugar (mishri), reflecting Lord Krishna's love for butter.
Dahi Handi: This dish is a yogurt-based preparation, often sweetened and flavored with spices. It symbolizes Lord Krishna's fondness for yogurt (curd).
Panchamrit: Panchamrit, or the "five nectars," is a sacred mixture of milk, yogurt, honey, sugar, and ghee. It's offered as a prasad (holy food) to Lord Krishna and then distributed to devotees.
Chappan Bhog: Chappan Bhog is an elaborate offering consisting of 56 different dishes, including sweets, savories, and fruits. It is traditionally presented to the deity and later shared among devotees.
Kheer: Kheer is a creamy rice pudding made with rice, milk, sugar, and flavored with cardamom and saffron. It's a beloved dessert often prepared during Janmashtami celebrations.
ALSO READ: Weight Loss bounty: 5 factors why Black Coffee is must-have for losing kilograms
Peda: Pedas are sweet, soft, and fudgy milk-based sweets, usually flavored with cardamom or saffron. They are a popular choice for Janmashtami prasad.
Murukku: Murukku, also known as chakli, is a crispy and savory snack made from rice flour and urad dal (split black gram). It is a popular choice for Janmashtami, as Lord Krishna is said to enjoy savory snacks.
ALSO READ: 5 reasons why too much Lemon Water is health danger
Last Updated Sep 4, 2023, 5:53 PM IST