All Souls' Day 2023: Day, history and significance
All Souls' Day, on November 2nd, is a Christian tradition dating back to the 7th century, dedicated to praying for departed souls in purgatory and remembering loved ones. It signifies the interconnectedness between the living and the deceased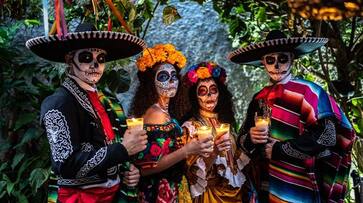 All Souls' Day, observed on November 2nd, is a significant day in the Christian calendar, dedicated to remembering and praying for the souls of the departed. It is a day of deep religious and cultural importance, providing an opportunity for believers to reflect on the souls of their loved ones who have passed away and to offer prayers and remembrance for their eternal peace. In this article, we will delve into the history and significance of All Souls' Day, shedding light on the traditions and customs associated with this solemn occasion.
History: The history of All Souls' Day dates back to the early Christian Church. While All Saints' Day, celebrated on November 1st, honors known and recognized saints, All Souls' Day was established as a complementary observance to commemorate the souls of the departed who may not have been officially canonized. Its roots can be traced to the 7th century when it was first instituted by St. Odilo, the abbot of Cluny in France. The day gained wider recognition in the 10th century and soon spread across Europe.
ALSO READ: Are you a weekend traveller? Here's a list of places for getaways from Bengaluru
The timing of All Souls' Day, following All Saints' Day, is symbolic. It emphasizes the connection between the living and the deceased. Together, these two days form the Allhallowtide, a time to remember both the known and the unknown saints and all the faithful departed.
Significance: All Souls' Day holds great significance for Christians as it is a day when they pray for the souls of their deceased relatives, friends, and all those who have departed this world. It is believed that the prayers and acts of mercy performed on this day can help the souls in purgatory, a temporary state of purification, move closer to God. This doctrine of purgatory, accepted by the Roman Catholic Church and some other Christian denominations, underlines the importance of intercession for the souls in transition.
ALSO READ: What is the process for canonization? A guide for All Saints' Day
On this day, churches hold special Masses and liturgical services dedicated to the dead. Many people visit cemeteries to clean and decorate the graves of their loved ones, often lighting candles and laying flowers. It's a day of reflection and remembrance, providing comfort to those grieving and a sense of unity with the departed.
All Souls' Day is a day of prayer, remembrance, and reflection, with its origins deeply rooted in Christian history. It serves as a reminder of the interconnectedness of the living and the deceased, offering solace to those mourning the loss of their loved ones and providing an opportunity to seek God's mercy for the souls in purgatory. The traditions associated with this day help preserve the memory of the departed and strengthen the bonds between the living and the dead.
Last Updated Nov 2, 2023, 7:00 AM IST