Karnataka CM Siddaramaiah urges swift drought relief and appeals to Union Home Minister Amit Shah.
Despite a month-long study by the central drought team, Karnataka faces a severe drought with no solution in sight. Chief Minister Siddaramaiah has penned a letter to Union Home Minister Amit Shah, requesting urgent intervention for drought relief.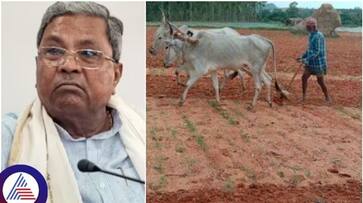 Highlighting a 73% rainfall deficit and the impact on 223 taluks, the state government had earlier sought relief on October 22. However, the situation worsened, affecting more taluks. Siddaramaiah expressed disappointment that the Central team, which observed the drought from October 5 to 9, hasn't initiated relief efforts.
The drought has caused a loss of ₹35,162.05 crore on 48 lakh hectares, affecting agricultural and horticultural crops. Small-scale farmers with less than 2 hectares are hit hardest.
Also Read: Bengaluru: BBMP goes digital by sending property tax notice, scanners along WhatsApp
The state government has already spent ₹324 crores in October, releasing relief funds through the State Disaster Response Fund (SDRF). An additional ₹18,171.44 crore from the National Disaster Response Fund (NDRF) for crop losses is pending. Siddaramaiah urged the central government to expedite relief.
In his letter, Siddaramaiah also called for a revision of NDRF rules, requesting flexibility in the 50% crop loss criterion and making relief more accessible to affected farmers and taluks. Siddaramaiah passionately advocates for a more lenient approach, stressing the necessity of rule relaxation to ensure that aid reaches farmers and taluks facing the brunt of the crisis.
Last Updated Nov 14, 2023, 10:54 AM IST