Impersonating cab driver takes Bengaluru man on scary drive, redditor tracks him live
A disturbing incident in Bengaluru raises ride-hailing safety concerns as an imposter driver forcibly takes a passenger in a fake Ola cab. Reddit community rallies to assist, tracking the situation, leading to the imposter's apprehension with the help of Bengaluru police. Users are urged to verify driver details and report suspicious activity for safety.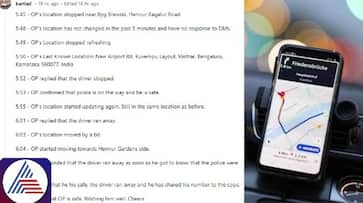 A recent incident in Bengaluru has raised concerns about the safety of ride-hailing services. A local resident, who goes by the username @jewish_cyborg on Reddit, shared a terrifying experience on the platform. He described how he was forcibly taken on a ride by a private taxi driver who pretended to be an Ola cab driver, despite the fact that the passenger had initially booked an Ola ride. This imposter driver took the passenger's bags and refused to stop when requested, as reported by a news website.
Shaken by the incident, the passenger turned to the Reddit community for help. He shared a photo of the fake cab driver and provided details of the distressing episode. In a heartening show of solidarity, fellow Redditors came together to support him, offering real-time assistance to ensure his safety. One vigilant Reddit user, @kartlad, took it upon himself to track the passenger and the vehicle, continually updating the online community on their whereabouts as the situation unfolded.

Bengaluru woman cancels ride, shockingly receives nude photos from driver
Thanks to the collective efforts of the online community and the close communication with the victim's family, who stayed in contact via a video call, the imposter driver was eventually forced to stop and release the passenger. The prompt response of the Bengaluru police, who were contacted through emergency services, played a pivotal role in resolving the crisis.
Users are strongly advised to verify their driver's identity by confirming the driver's name, photo, and vehicle details before getting into the car. If any suspicious activity is observed, it is crucial to report it to the authorities promptly.
Last Updated Oct 31, 2023, 12:51 PM IST