Former PM HD Deve Gowda decries divisions in addressing Cauvery water dispute
In a candid statement, former Prime Minister H.D. Deve Gowda expressed regret over the lack of unity among Karnataka politicians concerning the issue of preventing Cauvery water from being released to Tamil Nadu. Speaking at his residence in Hassan, Deve Gowda noted that there is a stark contrast between the unity exhibited by politicians in Tamil Nadu regarding Cauvery water distribution and the lack of a unified stance in Karnataka.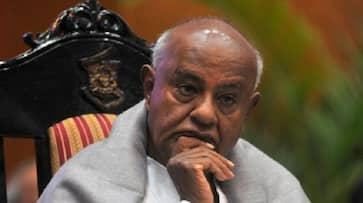 Deve Gowda revealed that he had personally undertaken an investigation into the water levels of dams that supply the Cauvery and shared these findings in a letter to the Prime Minister. In this letter, he emphasized the need for an impartial expert committee to assess the conditions in both states. He pointed out that Karnataka requires 70 TMC (Thousand Million Cubic Feet) of water to sustain its crops, a demand that might not be met without intervention.
Regarding the contentious Cauvery Water Regulation Committee (CWRC) verdict, Deve Gowda expressed concern about the government's unclear stance on the matter. He acknowledged that unity among Karnataka politicians is lacking, unlike the situation in Tamil Nadu, where political leaders have demonstrated a more cohesive approach.
Former CM Kumaraswamy Criticizes Congress Government's Handling of Cauvery Water Issue
Deve Gowda also hinted at a forthcoming discussion about the alliance between the Bharatiya Janata Party (BJP) and the Janata Dal Secular (JDS), emphasizing his commitment to open dialogue and transparency. He reaffirmed his dedication to the issues he has championed throughout his political career, including the Cauvery water dispute, and noted the historical context of his involvement, which included interactions with prominent figures such as late Anant Kumar and Siddaramaiah.
In response to recent bandhs in Karnataka aimed at preventing the release of Cauvery water, Deve Gowda humorously commented on the state's unique political landscape, highlighting the varying approaches taken by different groups and the continuing challenge of achieving political unity.
Last Updated Sep 27, 2023, 5:10 PM IST