Day-long Bengaluru bandh results in Rs 1,500 crore transaction loss; check details
The recent Bengaluru bandh protesting Cauvery River water release to Tamil Nadu has cost the state government an estimated Rs. 250 crores in losses. Another statewide bandh is expected, with potential losses exceeding Rs. 4,000 crores, painting a grim economic picture for Karnataka.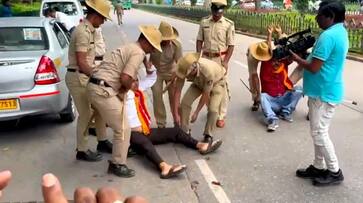 The recent Bengaluru bandh, organized by the Karnataka Water Conservation Committee in protest of the Cauvery River water release to Tamil Nadu, has had significant economic repercussions. It is estimated that the state government has suffered losses amounting to Rs. 250 crores as transactions worth Rs. 1,500 crores ground to a halt during the bandh.
The impact of this one-day bandh extends beyond the immediate losses. Karnataka is bracing for another state-wide bandh on Friday, September 29. Which is going to disrupt commercial activities and industrial production. During this upcoming bandh, the state is expected to incur losses exceeding Rs. 4,000 crores, with a GST loss of more than Rs. 450 crores, of which 60 per cent will be attributed to Bengaluru.

Cauvery dispute: CWRC orders Karnataka to release 3,000 cusecs of water daily to Tamil Nadu
The combined losses to the government and the business sector paint a grim picture, with more than Rs. 700 crores in losses within a single week and businesses losing over Rs. 5,000 crores in revenue.

"If there is a one-day bandh in Bengaluru, it will cost the state government 250 crores. There will also be a GST loss. In addition to that, business and transactions worth more than one thousand crore rupees will be stopped. So, instead of a bandh, it is better to find another way to fight," said B.V. Gopala Reddy, President of FKCCI.
Last Updated Sep 27, 2023, 10:00 AM IST