BJP govt cancelled 385 criminal cases in their term: Karnataka DyCM D K Shivakumar
Deputy Chief Minister D.K. Shivakumar alleges that the BJP government in the state received 385 criminal cases in 2019, emphasizing a surge in violence-related incidents during their tenure. He also discusses the withdrawal of cases against certain individuals and the demand for the disclosure of the caste census report.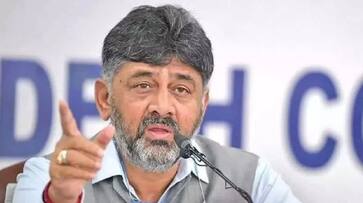 Deputy Chief Minister of the state, D.K. Shivakumar, has alleged that the BJP government received 385 criminal cases in 2019 during its tenure, highlighting a surge in violence-related incidents. Shivakumar made this disclosure while addressing the media.
He criticized the BJP's actions during its term, stating that the party seems to be unaware of its own shortcomings and the issues it faced while in power. Shivakumar underlined that the public may not fully comprehend the BJP's actions during its tenure, suggesting that the party is now facing the consequences of its actions.

Karnataka DyCM DK Shivakumar lands in controversy over letter seeking closure of Hubli riot case
Shivakumar further noted that the BJP government had obtained 385 criminal cases in another instance of violence, shedding light on the law and order situation during that period. Additionally, he mentioned that 2,361 individuals with a history of criminal activities, often referred to as "rowdy sheeters," have been dropped from police records.
During the BJP government's rule in the state, several prominent figures, including Basavaraj Bommai, Araga Gyanendra Madhaswamy, Angara, Arun Kumar, Doddana Gaudru, Veeranna Charantimath, S.R. Vishwanath, V.S. Patil, Subhash Guttedar, Rajkumar Patil, Rabindranath, Madal Virupakshappa, Anand Mamani, Aravinda Bellad, SK Bellubbi, and N. Ravi Kumar, have appealed for the withdrawal of their cases. Shivakumar confirmed that he possesses the requested documents and is prepared to release them if necessary.

Union Minister Prahlad Joshi slams Karnataka govt's move to withdraw Hubli riots case
He clarified that these individuals were released during the BJP government's term because they were party workers. Shivakumar expressed a commitment to ensuring justice for the innocent while acknowledging that there were local recommendations regarding the withdrawal of certain cases. He mentioned the existence of a sub-committee for this purpose and indicated a willingness to withdraw cases against him if other legislators dispute his claims.
Regarding the demand for the disclosure of the caste census report in the state, Shivakumar revealed that during their previous government, the Kantaraju Committee had been established for this purpose, but the process remained incomplete. He acknowledged the renewed demand for the report's disclosure and noted that his party had taken a national-level decision on the matter. Shivakumar assured that the party would act in accordance with this decision.
Last Updated Oct 4, 2023, 4:35 PM IST