We will give our blood but will not release Cauvery water: Veteran actor Doddanna
Notable figures like actor Doddanna joined protests in the Cauvery water dispute, emphasizing its collective nature and historical importance. Meanwhile, Mahesh Rudramuni symbolically protests the water release to Tamil Nadu. Critics call for a fair representation of Karnataka's water situation to resolve the dispute.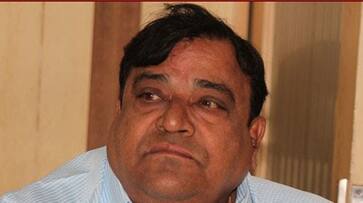 In the ongoing Cauvery water dispute, notable individuals from various fields have taken to the streets to express their concerns. One of them is veteran Kannada film actor Doddanna, who strongly supports the cause. He emphasized the crucial role of the Cauvery River in the lives of the region's people and pointed to a significant 1924 agreement that dictates how Cauvery water is distributed. Doddanna called on influential figures to actively engage in resolving this issue.
Doddanna stressed that the struggle for Cauvery water is a collective effort, with active participation from the film industry. He emphasized that this isn't about personal pride but a fundamental need for the well-being of the people.

Why did actor Shiva Rajkumar apologize to Tamil actor Siddharth during Cauvery protest?
In another protest, Mahesh Rudramuni, representing the Jaya Karnataka Sangathan, protested the release of Cauvery water to Tamil Nadu symbolically. He carried a stone on his head and submitted a request to the Chief Minister through the Vijayapura District Collector.

Cauvery row: CWMA upholds order of CWRC; Directs Karnataka to release 3000 cusecs of water to TN
The longstanding disputes over Cauvery and Mahadayi river waters have troubled the state for decades without a permanent solution. Although the Cauvery Water Management Authority (CWRC) was established to address the problem, recent controversies arose when water was released to Tamil Nadu. 
Critics argue that it's unfair to provide water for a third crop in Tamil Nadu while Karnataka faces a drinking water shortage. They urge parliamentarians to present the facts, including rainfall shortages and limited dam storage capacity, to the CWRC and the High Court to ensure justice for Karnataka's people. These critics assert that the true situation in the Cauvery basin hasn't been adequately conveyed by the water management committee and the court, perpetuating the ongoing dispute.
Last Updated Sep 30, 2023, 10:07 AM IST