Why did actor Shiva Rajkumar apologize to Tamil actor Siddharth during Cauvery protest?
Actor Shivaraj Kumar apologized to Tamil actor Siddharth during a Cauvery support campaign amid the Karnataka bandh. He urged unity, expressed disappointment over disruptions at a non-Kannada film event, and called for peaceful resolutions to the Cauvery issue through government negotiations.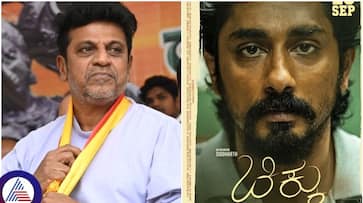 Actor Shivaraj Kumar from the Kannada film industry issued an apology to Tamil actor Siddharth during a Cauvery struggle campaign in support of the Karnataka bandh. He expressed his affection for people of all languages and urged against exploiting the Cauvery issue.
Shivraj Kumar expressed his disappointment over an incident where a press event for a non-Kannada film promotion was disrupted in Bengaluru. He stated the importance of supporting Siddharth, a Tamil actor, in his efforts in Kannada cinema and avoiding such errors in the future. He praised the people of Karnataka for their inclusiveness, stating they appreciate films of all languages while preserving their cultural dignity.

Prakash Raj apologizes to actor Siddharth after pro-Kannada activists disrupt press conference in Bengaluru
"Was it wrong when an artist from another language spoke, and someone went and stopped it? I don't know who stopped it and why. We Kannadigas welcome everyone. We should acknowledge our problems and face them. A person who avoids problems is not truly a man. Now, we must figure out how to address the problem and face it. Just sitting, fighting, and talking won't lead to a solution," he stated.

Karnataka bandh: Sandalwood Actors and artists join hands in support of Cauvery struggle
"When the Cauvery struggle began, farmers, pro-Kannada organizations, and the media always complained that the artists wouldn't come. But what should artists do in this situation? We will come and stand here. Does that really solve the problem? You are the ones who bestowed us with stardom. Take it back if you want; we don't need it. Can all the problems be solved if we come and sit here for just 5 minutes? We can't claim to love the Cauvery just by posting a tweet or a video when there's a problem. We do always respect our people and the farmers," declared Actor Shivraj Kumar.
Shivraj Kumar emphasized the necessity for elected government leaders, especially those from Karnataka and Tamil Nadu, to engage in negotiations to resolve the Cauvery issue. He slammed violent actions, such as stone-throwing, and called for a more peaceful and constructive approach to address the problem.
Last Updated Sep 29, 2023, 5:29 PM IST