Siliguri submerged due to overnight downpour; locals stranded in waterlogged condition
Locals have been stranded in Siliguri due to overnight rains. Problems are due to the accumulation of water in different places. As the area is submerged, normal life is disrupted. Allegations of indifference against the municipality.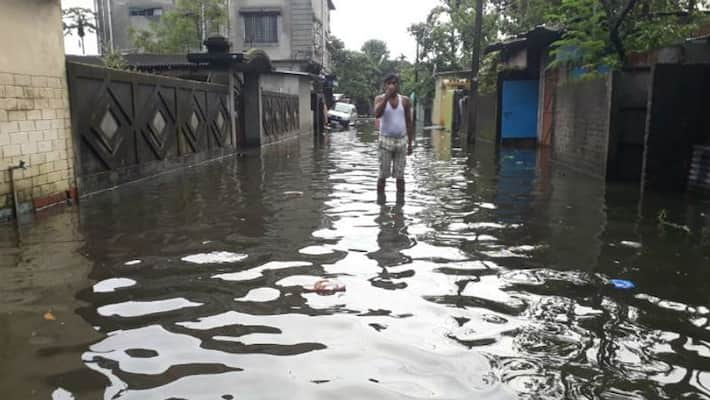 Different districts of North Bengal witnessed massive overnight rains on Monday (August 31). Due to the rain, various wards of the Siliguri municipality are under water blockade. Life has been thrown out of gear as locals are stranded in water as their houses have been flooded. Not only that, but the traders have also suffered due to the flooding of the Champasari Regulated Market, an important market in Siliguri.
According to reports, various places in Siliguri have been receiving torrential rains on Tuesday (September 1) morning too. As a result, several wards of the municipality were flooded. Locals are facing problems due to water intrusion in ward numbers 40, 46, and 47. People claim the flooding has left them in a lurch as they can't even cook for themselves in these conditions.
Also read: New equation before WB Assembly election? BJP leader Mukul Roy visits Trinamool leader's ashram
Local residents have also accused the administration saying they are not paying any heed to this issue. Common people have suffered due to waterlogging in different areas of Siliguri including Champashari, Jyotinagar, and Milonpalli. Kutcha houses have been damaged due to rain in Bhupendranagar area of Ward No. 42. High drains have also suffered extreme damage.
The traders of the regulated market are in trouble due to overnight rains. The downpour started a day after the weekly lockdown. Therefore, traders have faced a lot of difficulties. The traders claimed that there was a problem in moving the goods due to the accumulation of water inside the market. In addition, the normal life of the common people has been disrupted due to the heavy rain. Traders are also fearing huge losses that they will have to incur due to the downpour.
Also read: Trinamool is a closed chapter: Sovan Chatterjee
This is a common problem the locals face during monsoon as water accumulates due to rain in different wards of Siliguri. Due to COVID-19 pandemic, the amount of water accumulation has increased as the sewers are not cleaned properly. In this situation, the local residents have complained of the indifferent attitude of the concerned authorities of Siliguri municipality.
 
Last Updated Sep 1, 2020, 2:55 PM IST