Sadhguru shows 'the only way' to end Cauvery water row between Karnataka and Tamil Nadu
Renowned spiritual leader Sadhguru proposes a solution to the Karnataka-Tamil Nadu water-sharing conflict on social media. He suggests tree-based agriculture in the Cauvery basin to ensure year-round river flow, amidst protests over the Cauvery Water Regulation Committee's directive for water release.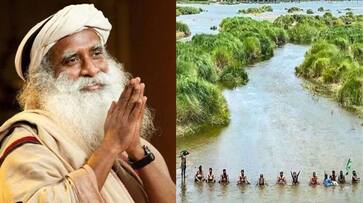 Renowned spiritual leader and founder of the Isha Foundation - Jagadish Vasudev, widely known as Sadhguru, has proposed a unique solution to the enduring water-sharing conflict between Karnataka and Tamil Nadu. Sadhguru, shared his idea on the social media platform X (formerly Twitter), stressing the urgency of addressing the depleting condition of the Cauvery River.
He took this to Platform X and posted "Mother Cauvery does not know which state we belong to but she is suffering from depletion and drying up during the summer months. Bringing large-scale tree-based agriculture and vegetating the 83,000 sq km of the Cauvery basin is the only way Cauvery will flow 12 months of the year in abundance. Let us strengthen and enhance Mother Cauvery rather than fighting over depleted waters. Let wisdom prevail."

Isha Yoga Center abuzz with celebration over Chandrayaan-3 mission success | WATCH

He emphasized that the Cauvery River doesn't recognize state boundaries and has been grappling with drought for numerous years. He proposed a sensible solution to resolve the Cauvery dispute between the states. Sadhguru advocated for the adoption of tree-based agriculture along the Cauvery River basin, spanning over 83,000 sq km., a measure that could enhance the river's year-round water flow.

Cauvery row: CWMA upholds order of CWRC; Directs Karnataka to release 3000 cusecs of water to TN

The Cauvery dispute has triggered widespread protests throughout Karnataka, with various farmer unions and pro-Kannada organizations taking the lead. This longstanding issue between Tamil Nadu and Karnataka has persisted for years. However, the worsening drought situation in Karnataka has further strained water availability, with Tamil Nadu continually appealing for a substantial release of water from Karnataka.
Sadhguru's proposal comes in the midst of momentous protests in Karnataka over the interstate water-sharing disagreement. The recent directive from the Cauvery Water Regulation Committee (CWRC), mandating Karnataka to release 3,000 cusecs of Cauvery water to Tamil Nadu from Biligundlu, starting from September 28 and continuing until October 15, has sparked widespread demonstrations and unrest throughout Karnataka.
Last Updated Sep 29, 2023, 4:51 PM IST