Puthuppally bypoll result: 'Only sympathy wave'... Kerala CPI(M)general secretary MV Govindan on UDF's win
Puthuppally bypoll result: The CPI(M) has accepted the defeat in the byelection in Puthuppally constituency. UDF candidate Chandy Oommen won the byelection by a margin of more than 36,000 votes on Friday (Sep 8). CPM state secretary M V Govindan said a 'sympathy wave' helped Congress to win.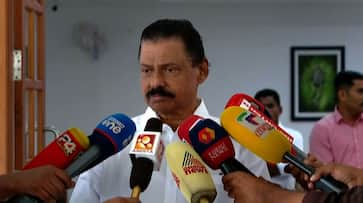 Thiruvananthapuram: Communist Party of India (Marxist) state secretary M V Govindan on Friday (Sep 8) said a sympathy wave helped UDF candidate Chandy Oommen win the Puthuppally by-election. He refuted the opposition's claim that the decision was a condemnation by the public against LDF's misgovernance. 
Also read: Puthupally bypoll result: Chandy Oommen, the son who kept the legacy alive
"Chandy Oommen himself referred to his victory as his 13th victory. This (sympathy) component is beyond debate. Since the byelection was held directly following Oommen Chandy's passing, it was anticipated that UDF would win. Thus, the sympathy wave helped the front," said Govindan.
It raises doubt as to whether the saffron party has supported the UDF, he added, pointing out the sharp decline in the BJP's vote share. The CPM leader stated that the byelection results shouldn't be seen as the public's disapproval of the LDF government. In a statement to the media, the CPM secretary admitted defeat while making bold projections about how they would win over voters in the upcoming Lok Sabha elections.
Chandy Oommen, the candidate for the Congress-led UDF, won the byelection by a margin of more than 36,000 votes on Friday, according to sources with the Election Commission, retaining the Puthuppally Assembly constituency in Kerala. Even in its strongholds, the CPM-led LDF lost ground, and when the votes were finally counted, BJP candidate Lijin Lal was nowhere to be found.
UDF won by 36,454 votes and gained a total of 78,098 votes. LDF's Jaick C Thomas earned 41,644 votes while the BJP's Ligin Lal gained 6,447 votes. The 37-year-old candidate, who was clearly riding a sympathy wave, not only won comfortably but also created history by outpacing his late father's lead of 33,255 during the 2011 Kerala assembly elections.
Also read: Puthuppally byelection result 2023: Chandy Oommen leads UDF to victory
Last Updated Sep 8, 2023, 3:40 PM IST