Puthuppally byelection result 2023: Chandy Oommen leads UDF to victory
In the Puthuppally byelection, UDF candidate and son of late former Chief Minister Oommen Chandy, Chandy Oommen won by a majority of 36454 votes.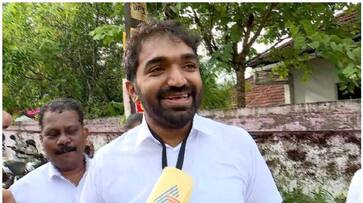 Kottayam: The United Democratic Front (UDF) has secured an emphatic victory in the Puthuppally byelection, the counting of votes for which was undertaken on Friday morning (Sep 8). With this, the UDF, has retained the seat vacated due to the untimely demise of former MLA Ommen Chandy. UDF's Chandy Oommen, LDF candidate Jaick C Thomas and BJP's G Lijin Lal were contesting in the byelection. As per the latest figures, Chandy Oommen won by a majority of 36454 votes. 
UDF won by 36,454 votes and gained a total of 78,098 votes. LDF's Jaick C Thomas earned 41,644 votes while the BJP's Ligin Lal gained 6,447 votes.
The largest victory margin in Puthuppally for Oommen Chandy was in 2011, when he defeated CPM candidate Suja Susan George by a margin of 33,255 votes. Voter turnout in the byelection was 72.91%, which was lower than the state election's 77.36% figure in May 2021. In the election of 2021, Oommen Chandy received 63,372 votes, making him the winner of that election. Jaick received 54,328 votes, while N Hari of the BJP was content with just 11,694 votes. The most recent results demonstrate a serious loss of support for the BJP and LDF.

The byelection was viewed as politically crucial as it took place a few months before the 2024 Lok Sabha elections when the Congress sought to hold onto its longtime stronghold and the ruling CPI (M) sought to gain fresh ground.
The counting at the special station set up at a nearby college, which was scheduled to start at 8 am, was delayed for a short while. 
There were 182 booths in total at Puthuppally, and according to EC sources, the electronic voting machines would count the votes in 13 rounds. 
72.86 per cent of the total registered 1,76,412 voters had cast their vote on September 5, according to the Chief Electoral Officer.
Last Updated Sep 8, 2023, 12:30 PM IST