Philosopher's shocker: Bhagavad Gita 'obscene, disgusting'; Himmler used it to justify Jews' genocide (WATCH)
Renowned Slovenian philosopher Slavoj Zizek calls the Bhagavad Gita as 'one of the most obscene and disgusting sacred books' and claimed Germany's Nazi politician Heinrich Himmler used it to justify genocide on Jews.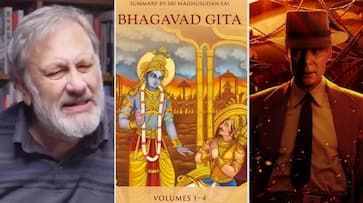 The Bhagavad Gita, an ancient and revered text in Hindu philosophy, has been subject to varied interpretations and analyses throughout history. However, recent controversial remarks by renowned Slovenian philosopher Slavoj Zizek, a prominent figure in the realm of philosophy, have sparked heated debates and raised concerns regarding the understanding and portrayal of this sacred scripture. In a video shared by @YearOfTheKraken on X, formerly Twitter, Zizek tears into Bhagavad Gita and labels it as 'one of the most obscene, disgusting sacred books'. The philosopher also claims that Germany's Nazi politician Heinrich Himmler used the Bhagavad Gita to justify the genocide on Jews.
Also read: Chilling audio! Hamas terrorist boasts of killing 10 Jews in massacre; dials from victim's phone (LISTEN)
The Bhagavad Gita, a 700-verse Hindu scripture, is revered for its philosophical depth and spiritual teachings. It is a conversation between Prince Arjuna and Lord Krishna, who serves as his charioteer and imparts guidance on duty, righteousness, and the nature of life. Its themes revolve around duty (dharma), ethical dilemmas, and the path to spiritual realization.
Žižek's critique extends to a scene in the popular film "Oppenheimer," where characters engage in a sexual act while reading the Bhagavad Gita. He describes this as a contradiction, portraying a "beautiful sexual act" alongside excerpts from what he deems an "obscene, disgusting" sacred text.
"Oppenheimer is a good film. The political part especially the way they showed the committee and how Oppenheimer was manipulated doubly. But I hate the spiritual part of Bhagavad Gita," he said in the video shared on X.
"You remember in the movie Oppenheimer caused a scandal in India. You know why because when Florence Pugh and Oppenheimer make love for the first time, I think she asks him or the other way around, I don't know, to read Bhagavad Gita. The Indians exploded. 'Dirty, sexual act... how can you?' I agree with Indians but in the opposite sense. A beautiful sexual act and they spoil it with reading part from one of the most obscene, disgusting sacred books," Zizek remarked.
In the interview, Zizek's denouncement of the spiritual significance of the Bhagavad Gita stems from a selective and alarming association with Heinrich Himmler, a leading figure in the Nazi regime. According to the Slovenian philosopher, Himmler allegedly carried the Bhagavad Gita as a moral justification for the genocide of Jews, framing it as the answer to the question of committing heinous acts without losing humanity.
"Bhagavad Gita was the book, which Heinrich Himmler kept all the time in his pocket because this was his reply to how to kill the Jews. His ethical problem of Himmler was: Yes we're doing horrible things, killing Jewish children and others. How can we do it without becoming beasts ourselves? His answer was: Bhagavad Gita," Zizek claimed.
Also read: Asianet News Exclusive! 'Situation worse than our worst nightmares...' say Indian-origin Jews
This association is highly contentious and lacks substantial historical evidence. There is a fundamental misunderstanding or misinterpretation at play here. The Bhagavad Gita, a spiritual and philosophical guide, preaches non-attachment to the fruits of actions, the importance of fulfilling one's duty, and understanding the complexities of existence. It does not endorse violence or the inhumane acts that characterized the Holocaust.
The Bhagavad Gita has been a source of guidance for individuals seeking spiritual solace, ethical wisdom, and philosophical insight for centuries. Its teachings have resonated across cultures and generations, emphasizing the importance of self-realization, duty, and the pursuit of inner peace.
Last Updated Nov 8, 2023, 10:27 AM IST