KPSC exam faces backlash as officials demand female candidates to remove Mangalsutras while entering hall
Female candidates in the Karnataka Civil Service exam faced controversy when asked to remove their mangalsutras and jewelry, sparking criticism for cultural insensitivity and unequal treatment. This directive led to concerns about fairness and raised questions about whether it exclusively affected Hindu candidates. The incident follows cheating allegations in Karnataka exams, adding to the controversy and debates about examination procedures.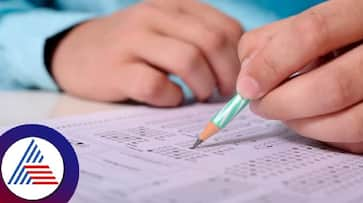 During the Karnataka Civil Service exam held in Kalaburgi, female candidates were reportedly instructed by the authorities to remove their mangalsutras when entering the examination hall. This directive has sparked significant controversy, leading to questions regarding cultural sensitivity and the consistency of examination procedures.
They were asked to remove not only their mangalsutras but also their earrings, chains, anklets, and hand rings by examination officials. The decision to require candidates to remove their mangalsutras, which hold cultural and religious significance for many women, has received strong criticism.

KEA scandal: Were the answers sent via Whatsapp during FDA exam?
The KPSC exam took place at the Government Pre-University College for Girls in Kalaburagi. Officials required female candidates taking the Group C post exam to take off their mangalsutras, toe-rings, earrings, and other metal items to prevent any irregularities during the examination.
Married women who were reluctant to remove their mangalsutras were denied entry by the examination centre authorities. Additionally, one candidate had difficulty removing her earring, and she had to seek assistance from a goldsmith to take it off.
Bharatiya Janata Party (BJP) MLA Basangowda Yatnal voiced strong reactions to the incident, raising concerns about whether this directive applied exclusively to Hindu candidates. Additionally, there were reports of authorities checking women wearing hijabs, who were ultimately allowed inside the examination hall. This has further fueled the controversy and led to questions about the fairness and consistency of the examination procedure.

KEA Scandal: After Bluetooth scam, now alleged irregularities in OMR sheets in Hubballi exam
One of the candidates pointed out that "it is part of Hindu culture that women are not required to remove their mangalsutra while writing exams. We remove them when necessary. I removed my mangalsutra and anklets and went inside." The candidate underscored the need for uniform and equitable procedures, akin to the checks conducted for women wearing hijabs.
This incident follows recent allegations of cheating during the Karnataka examinations, where candidates were caught using Bluetooth devices in the exam hall. The situation involving the removal of mangalsutras from female candidates during the KPSC examination has generated considerable sensation and controversy in the state.
Last Updated Nov 6, 2023, 10:42 AM IST