Karnataka: Lokayukta raids multiple locations in state including Bengaluru, Belagavi, Chitradurga, Kalaburgi
The Lokayukta police conducted extensive raids in Karnataka, targeting allegedly corrupt government officials in 179 locations. Raids in Bengaluru and other districts unveiled shocking cases of corruption, including the discovery of assets beyond reported income. The raids encompassed multiple officials, and significant assets, such as gold, silver, and cash, were seized during the operations.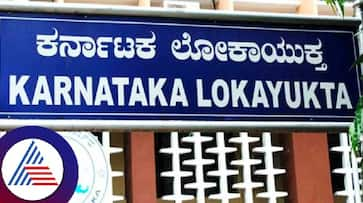 The Lokayukta police have conducted extensive raids in Karnataka around 179 locations across the state, including Bengaluru, witnessed raids on the residences and offices of allegedly corrupt government officials. This extensive crackdown was executed by more than 250 Lokayukta officers, targeting those accused of amassing disproportionate wealth.
The raids revealed a shocking tale of corruption, as officials from multiple districts, including Bengaluru, Chitradurga, Kalaburagi, Raichur, Hassan, Bidar, Devadurga, and Mandya, came under scrutiny.

Bengaluru: Forest officers raid actor Darshan Thoogudeepa's residence amid Tiger claw pendant row
In the state capital, Bengaluru, the Lokayukta officials simultaneously raided 11 locations. One such operation led to the house of ARO Chandrappa Birajjanavar in KRPura, a BBMP Hegganahalli Ward's RR Nagar Zonal Officer. Chandrappa, who had previously been caught accepting bribes, was found to have rented out multiple properties, drawing suspicion. The police delved into his KRPura residence in an effort to uncover further evidence.
Srinivas, Deputy Director of the Industries and Safety Department, also faced scrutiny as officials conducted raids on three different locations related to him in Bangalore and Kollegala, extensively examining records.
Lokayukta raid in Chitradurga
In Chitradurga, the Lokayukta police targeted two officials: ACF Nagendra Naik from the Forest Department and Krishnamurthy, Assistant Director of the Social Welfare Department. The raids uncovered a significant amount of gold and silver in ACF Nagendra Naik's residence, along with a substantial sum of cash. The seized assets included around 400 grams of gold, silver ornaments, and a sum of one and a half lakhs in Indian Rupees.

IT raid on Congress leader in Bengaluru nets Rs 42 crore meant for Telangana election use: Reports
Surprise raids in Belagavi
Belagavi witnessed the Lokayukta police conducting surprise raids on two officers, causing a stir in the district. AEE M.S. Biradara from the Panchayat Raj Department faced an investigation into alleged illegal property acquisition. Simultaneously, officers raided his residences in Shraddha Apartment of Visvesvaraya Nagar, Kittoor, and Khanapur.
Muti-raids at Kalaburgi
Lokayukta SP SS Kurnool spearheaded the raids in Kalaburagi, targeting officials accused of accumulating assets beyond their reported income. The raids included the house of Basavaraj Dange, the Bidar Zonal Forest Officer, located in Kalaburagi's Maka Layout. Additionally, KBJNL EE Thippanna Annadani's residence in Bhagyavanti Nagar, Kalaburagi, also underwent investigation. These operations led to the discovery of nearly 20 tolas of gold in Thippana Annadani's residence and significant amounts of cash.
Last Updated Oct 30, 2023, 10:29 AM IST