Karnataka: Actors, politicians say no to Hindi imposition
Actors and politicians said no to Hindi imposition on Hindi Diwas. Actors sported T-shirts with slogans supporting an online campaign against the imposition of Hindi.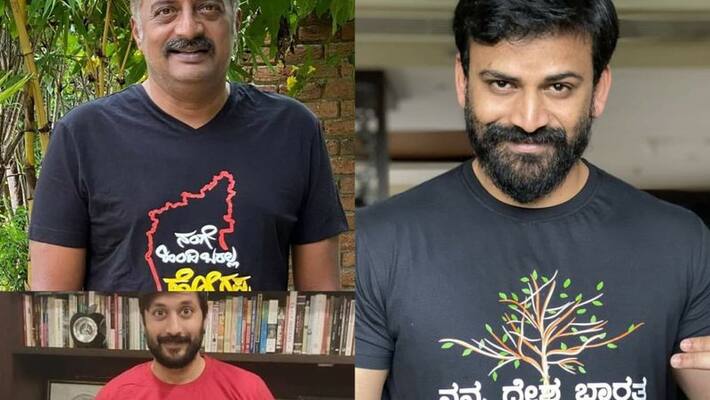 Bengaluru: On Hindi Diwas (September 14), a bunch of Sandalwood celebrities sported T-shirts saying no to Hindi imposition across the country while politicians also shared their opinion supporting the same.
Actors like Prakash Raj, Chetan Ahimsa, Dhananjaya and a few others wore T-shirts with messages that read 'Hindi Gothilla', 'Nange Hindi Baralla, Hograppa', to voice their support against Hindi imposition.
Sandalwood's new favourite Dhananjaya sported a black T-shirt which had a message that read 'Nanna Desha Bharatha, Nanna Beru Kannda' (India is my country, Kannada is my root)
Prakash Raj also sported a black T-shirt which had the map of Karnataka on it and read 'Nange Hindi Baralla, Hograppa' (I don't understand Hindi, go ahead).
Similarly, actor and activist Chethan Ahimsa donned a bright red T-shirt that read 'Hindi Gothilla Hogo Naanu Kannadiga' (I do not know Hindi, I am a Kannadiga)
Also read: Karnataka minister Byrati Basavaraj tests positive for Covid-19
Not just actors but politicians too supported the campaign.
Former chief minister of Karnataka HD Kumaraswamy spoke out against Hindi imposition through a tweet.
Congress leader Dinesh Gundu Rao also shared his opinion against the imposition of Hindi across the country.
The social media campaign not only coincided with Hindi Day but also came at a time when the National Education Policy (NEP) mentioned the three-language formula and the translation of the draft Environmental Impact Assessment (EIA) notification was done in Hindi but no other languages.
Last Updated Sep 15, 2020, 12:56 PM IST