Odisha train accident: Railway Board recommends CBI probe
Railways Minister Ashwini Vaishnaw on Sunday informed that the Railway Board had recommended a probe by the Central Bureau of Investigation into the Odisha Train Accident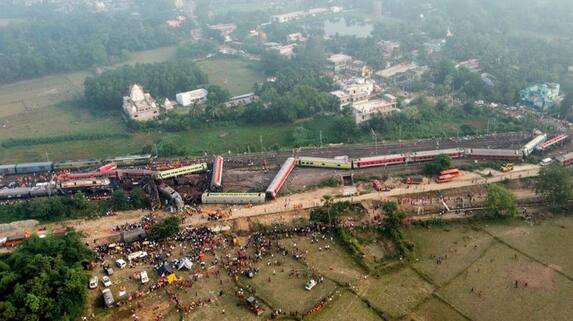 Railways Minister Ashwini Vaishnaw on Sunday informed that the Railway Board had recommended a probe by the Central Bureau of Investigation into the Odisha train accident.
"The circumstances under which the accident has happened, keeping that in mind and based on the administrative information received, the Railways Board has recommended that the investigation should be taken forward by the Central Bureau of Investigation," Vaishnaw told media persons in a brief statement.
Railway minister on Odisha train accident site since 30 hours, not for photo-op like predecessors: Govt
On Sunday, the Odisha government revised the death toll of the triple train accident from 288 to 275 and reported 1,175 injuries.
Chief Secretary P.K. Jena explained that the revised toll was due to some bodies being counted twice. He stated, "After careful verification and a report by the Balasore District Collector, the final death toll has been determined as 275."
Jena provided information about the treatment of injured individuals in various hospitals located in Soro, Balasore, Bhadrak, and Cuttack. He mentioned that 793 passengers have been discharged, while 382 are currently receiving treatment at government expense.
Regarding the identification of the deceased, Jena stated that 88 bodies have been identified, with 78 already handed over to their families, while 187 remain unidentified. Proper identification of the bodies has been a significant challenge, and measures such as DNA sampling and uploading photographs of the deceased on government websites will be undertaken.
Jena highlighted the rescue operations, stating that nine teams of the National Disaster Response Force (NDRF), five units of the Odisha Disaster Rapid Action Force (ODRAF), and 24 fire services teams were involved. The rescue operations have now been completed.
Furthermore, he mentioned the arrangements made for night surgeries and the deployment of over 100 medical teams with paramedical staff.
The train accident involved three trains: the Shalimar-Chennai Coromandel Express, the Bengaluru-Howrah superfast express, and a goods train. The Coromandel Express collided with a stationary goods train, resulting in several carriages overturning, including some onto the passing Bengaluru-Howrah superfast express. This incident is now being referred to as one of the worst train accidents in India.
Railway Minister says change in electronic interlocking caused Odisha train accident
Last Updated Jun 4, 2023, 8:06 PM IST