Army Day 2023: Parade moved out of Delhi for the first time since 1949
For the first time, the Army Day parade, which used to be held in Delhi every year, held in Bengaluru, Karnataka, on Sunday. Army Day is celebrated on January 15 every year. It was on this day in 1949 that General K M Cariappa took over as the First Indian Commander in Chief of the Army.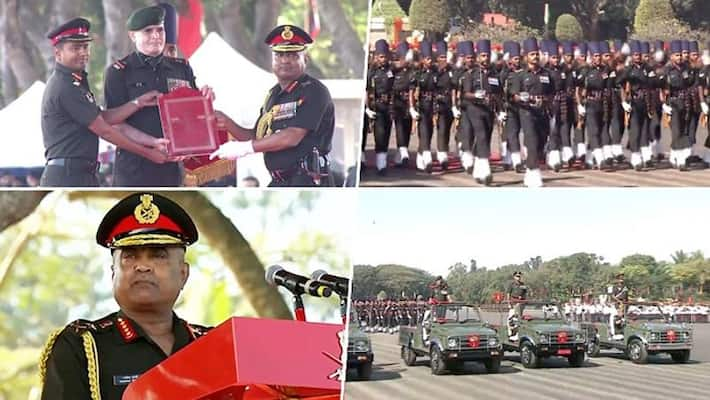 For the first time, the Army Day parade, which was previously held in Delhi, held in Bengaluru at Parade Ground, MEG & Center instead of the national capital. Army Chief Gen. Manoj Pande and other prominent figures, including Defence Minister Rajnath Singh, were present at the Bengaluru Army Day 2023 celebration.
Since 1949, Delhi has hosted the Army Day celebrations. The annual celebrations will be hosted at the different field commands around the nation starting this year, according to the Station Commander of the Southern Command, to promote a closer relationship with civic society.
Also Read | Army Day 2023: Nation salutes the Indian Army and its personnel
Chief of Army Staff General Manoj Pande remarked, "This is the first time army day and accompanying celebrations are being organised outside Delhi," while speaking during the Army Day parade in Bengaluru. "People in these areas will feel more welcoming as a result of this," he added. He further said that the location is crucial since K.M. Cariappa lived nearby.
General Pande stated that the situation at the Eastern border is steady and that the LAC is prepared to handle any unforeseen circumstances. Every year on January 15, the Army Day is observed to remember the day in 1949 when General (Later Field Marshal) KM Carriappa, the first Indian Army commander, took over leadership of the Indian Army from General Sir Francis Robert Roy Bucher, the final British Commander-in-Chief.
Also Read: Indian Army Day: Saluting The Legacy Of Field Marshal KM Cariappa
Prime Minister Narendra Modi took to Twitter and wrote, "On Army Day, I convey my best wishes to all army personnel, veterans and their families. Every Indian is proud of our Army and will always be grateful to our soldiers. They have always kept our nation safe and are widely admired for their service during times of crisis."
 
Last Updated Jan 15, 2023, 11:39 AM IST