What is Malaika Arora's REAL age? Is she hiding her age? Watch this SHOCKING video
Malaika Arora and her ex-husband Arbaaz Khan's old interview with Sajid Khan went viral on social media; netizens are now confused about her age. Sajid asks Malaika about marrying a younger man' Arbaaz Khan, in the video, 'Do Saal Badi...'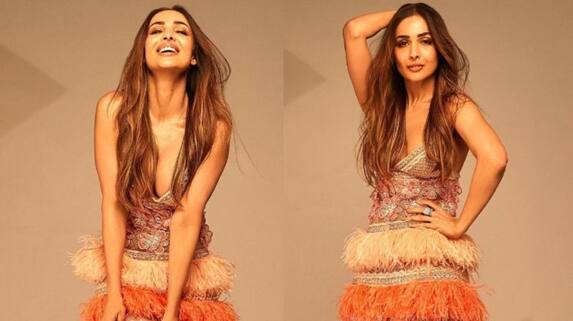 For the last two days, Malaika Arora is in the news after she posted a 'semi-nude' photo of her boyfriend, Arjun Kapoor. The pair has faced criticism for sharing "private moments" on social media. Because of their 11-year age difference, Malaika and Arjun's relationship is frequently the subject of haters. Malaika is 49 years old, whereas Arjun is 37.
However, the pair is not interested and ignore such criticism. Arjun and Malaika have been together for four years and may surprise fans with a wedding at any point. 
An old video of Sajid Khan interviewing Malaika Arora and Arbaaz Khan is becoming viral. When Sajid is seen making a joke about Arbaaz and her age gap and asks how she (Malaika) feels about it, Malaika answers she is OK with it and enjoys the fact. We can see she was a boss straight from the start. 
Also Read: Malaika Arora gets trolled for sharing private photo of Arjun Kapoor posing n*aked
The actual age of Malaika Arora.
by u/hailyou2022 in BollyBlindsNGossip
Sajid said to Malla, "Arbaaz se do saal badi, Malaika Arora," Sajid says. He then asks Malaika, "Kaisa lagta hai aapko (how do you feel)? You married a man younger than you?" To this, Malaika replies, "I think it's good."
While many social media users lauded Malaika for confidently answering Sajid's question, they criticised the filmmaker for being "ageist". One user wrote, "2 years is nothing why this man is announcing like this kaisa lagta hai marrying younger man." Another one said, "Bollywood is so ageist… No one bats an eye at Akshay and Salman romancing girls young enough to be their daughter's kids… while their original heroines are now playing grandma roles."
Also Read: Surveen Chawla SEXY and BOLD video: Actress dons black bra with leopard print power suit
What is Malaika Arora's real age?
Arbaaz Khan's age is 55, according to Wikipedia. This has left admirers guessing about Malaika Arora's actual age. Her age is widely known to be 49. However, according to this calculation, she is 57. After nearly 19 years of marriage, Malaika and Arbaaz separated in 2017. Arhaan, their 16-year-old son, is their only child.
Last Updated May 30, 2023, 9:22 AM IST