UT 69 Trailer OUT: Raj Kundra makes acting debut in his own biopic, Shamita Shetty sends best wishes
Raj Kundra's film trailer 'UT 69' unveiled, marking his acting debut. The film is about his time in jail. It's release date set for November 3rd.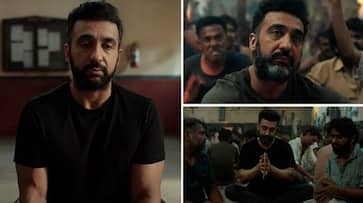 Raj Kundra, who is known as Shilpa Shetty's husband, has introduced the trailer of his upcoming movie called 'UT 69'. This film tells the story of how he was sent to jail on charges related to making pornographic content. The film was first announced on October 10th by filmmaker Farah Khan. To give you some background, Raj Kundra was arrested by the Mumbai Police in 2021 due to his suspected involvement in creating and sharing pornographic films. There were online pictures of Raj Kundra in Mumbai wearing distinctive masks to hide his face after his arrest.
As soon as the trailer was revealed Shilpa Shetty's sister Shamita Shetty took to instagram to give best wishes to her brother-in-law. She posted the trailer and captioned "All d best my jiju ❤️🦋 #myfamily @onlyrajkundra @aafilms.official #UT69 #traileroutnow "
The film will show the struggles Raj faced during his jail term and tells the story of how he adjusted to life there. In one scene from the movie, while checking Raj Kundra's bag the police officer finds his toothbrush and throws it away as it is not allowed in jail, to which Raj inquires "Toothbrush ke bina mai brush kaise karunga" Police officer hilariously replies "Ungli se!",
Raj Kundra, who is married to Shilpa Shetty, will make his acting debut with this biopic. On October 10th, Raj officially unveiled the project by sharing a funny video featuring filmmaker Farah Khan and comedian-rapper Munawar Faruqui. The film is set to be released on November 3rd. 
ALSO READ: 'SCAM 2003: The Telgi Story' trailer OUT: Hansal Mehta takes audience into an intriguing scam era
Last Updated Oct 18, 2023, 7:38 PM IST