UT 69: Shilpa Shetty's reaction to Raj Kundra acting in his own bio-pic was hilarious; here's what she said
Raj Kundra's acting debut in "UT69," a film based on his arrest, initially worried wife Shilpa Shetty but she later became supportive after a narration by the director. The film portrays his time in jail and his arrest in a 2021 pornography-related case. Shilpa Shetty is proud of his performance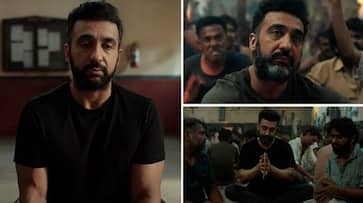 Raj Kundra is set to make his acting debut in the upcoming film "UT69," which is centered around his notorious arrest. In a recent interview, he disclosed how his wife, actor Shilpa Shetty, initially reacted to the idea of his acting debut. At first, Shilpa was hesitant about the project, but her stance evolved to become more supportive.
Raj humorously recounted the moment he shared the news with Shilpa, stating, "She (Shilpa) was a few feet away from me when I decided to tell her that I am making a film. I didn't want to go too close to her." He mentioned that he presented the script to her and awaited her response. To his surprise, a flying slipper came his way, suggesting that Shilpa had reservations about the project initially. It appeared she thought the film might not come to fruition.
However, Raj managed to persuade Shilpa after a narration by the film's director, Shahnawaz Ali. The director provided Shilpa with a brief overview of the film, and she began to perceive it as a human story rather than an attack on the system. Shilpa became increasingly supportive of the project and even asked Raj if he could handle the acting role, to which he assured her that he was prepared, having engaged in some method acting by spending time in jail.
The film "UT69" revolves around Raj Kundra's experiences during his incarceration at Mumbai's Arthur Road Jail. Raj Kundra had been arrested in connection with an alleged pornography-related case in 2021. The film's trailer opens with a "breaking news" segment highlighting Raj's infamous arrest, which generated substantial controversy.
ALSO READ: Varun Dhawan faces online backlash over viral photo, netizens feel disgusted
Raj Kundra was granted bail in September 2021 after spending approximately two months in jail. He faced charges under various sections of the Indian Penal Code, the Indecent Representation of Women (Prevention) Act, and the Information Technology Act. Shilpa Shetty is reported to be proud of her husband's acting debut in "UT69.
Last Updated Oct 19, 2023, 9:26 AM IST