The Vaccine War: Vivek Agnihotri's film script earns invite to Oscar academy library; READ
'The Library of the Academy of Motion Picture Arts & Sciences' seeks to preserve 'The Vaccine War' screenplay, adding it to their prestigious core collection—A rich repository of cinematic heritage.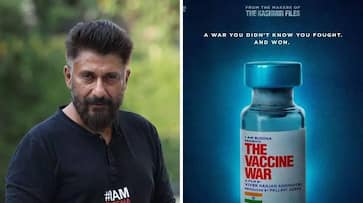 'The Vaccine War,' a compelling and thought-provoking cinematic creation by the talented duo of Vivek Ranjan Agnihotri and Pallavi Joshi, has rapidly enamored audiences across the globe, earning widespread appreciation and critical acclaim. The profound impact of the film has been further amplified by the growing buzz generated through word of mouth, emblematic of its profound cultural and societal significance.
What adds an extra layer of excitement to this development is the expression of keen interest by the Library of the Academy of Motion Picture Arts & Sciences in acquiring a copy of the screenplay for 'THE VACCINE WAR,' with the intention of making it an enduring part of their esteemed Core Collection. This highly sought-after collection stands as a rich repository of cinematic material, accessible exclusively for in-depth study within the library's dedicated reading room.
It is worth noting that the Academy's research library extends its warm embrace to a diverse spectrum of individuals, encompassing students, filmmakers, writers, and those who harbor a general fascination with the realm of cinema. It's notable that, in the past, the Academy has pursued similar endeavors with respect to iconic Indian films such as 'Lagaan,' 'Kapil Sharma's Zwigato,' 'Action Replay,' 'Kabhi Alvida Na Kehna,' and 'Rock On,' and now 'The Vaccine War' is set to receive this rare and prestigious distinction.
'The Vaccine War' boasts a stellar ensemble cast featuring the likes of Nana Patekar, Sapthami Gowda, Raima Sen, Anupam Kher, and Pallavi Joshi in leading roles. The film, produced by Pallavi Joshi in collaboration with I Am Buddha Productions, made its theatrical debut in Hindi, Tamil, and Telugu languages on the 28th of September, 2023. This cinematic gem promises to narrate the gripping tale of the pivotal moments when India rose to the challenge of vaccine development, transcending boundaries and uniting in the face of a crisis.
ALSO READ: Ramayana: Makers face challenges in casting 'Laxman' to Ranbir Kapoor's 'Ram' in much-awaited biopic
Last Updated Oct 11, 2023, 8:04 PM IST