Shilpa Shetty, Raj Kundra separating? Cryptic post hints at divorce rumours
Raj Kundra shocks the internet with a tweet about his separation from Shilpa Shetty ahead of his film 'UT 69' release. He reveals his face after a year, having worn a mask since a 2022 legal controversy, and announces his biopic 'UT 69' set for release on November 3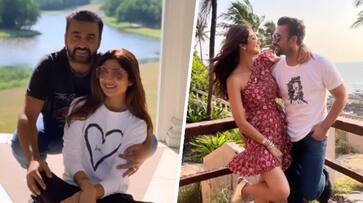 Raj Kundra and Shilpa Shetty Latest News: Ahead of the upcoming release of his debut film 'UT 69,' Raj Kundra took the internet by surprise with a recent tweet.
In his tweet, Raj Kundra, who is eagerly anticipating the release of 'UT 69,' made a sudden announcement about his separation without providing many details. He wrote, "We have separated and kindly request you to give us time during this difficult period." The tweet left many netizens speculating about whether he had parted ways with his actress wife, Shilpa Shetty. Some users even questioned if this was a promotional gimmick. Here are some of the reactions from the online community.
Raj Kundra Resurfaces After a Year: Recently, on a Wednesday, Raj Kundra appeared in public without a mask for the first time in several months during a press event. For those who might not be aware, Kundra was arrested in November 2022 in connection with a pornographic case and had been wearing masks in public since then. A video of him unveiling his face in front of the media went viral, marking almost a year since the controversy. He was dressed in all-black and removed his automatic iron mask with a smile.
ALSO READ: Leo Box Office Collection Day 1: Vijay, Lokesh Kanagaraj starrer opens huge; mints THIS in India
Raj Kundra's Biopic 'UT 69': Raj Kundra, known primarily as a businessman, is now transitioning into the world of acting with a biographical film titled 'UT 69.' The film aims to delve into his life and the controversies that have surrounded him. The official announcement of this project was made through a humorous video that featured Farah Khan and comedian-rapper Munawar Faruqui. 'UT 69' is scheduled for release on November 3 and promises to offer an intriguing glimpse into Raj Kundra's life and the controversies associated with it.
Last Updated Oct 20, 2023, 9:28 AM IST