Shah Rukh Khan's response to Irfan Pathan's son dancing to 'Jhoome Jo Pathaan' leaves internet in splits
Shah Rukh Khan's latest movie 'Pathaan' continues to rule the box office, while its title track 'Jhoome jo Pathaan' is also loved by fans. While Irfan Pathan's son tried to dance to the same tune, SRK had a hilarious response for the retired Indian all-rounder.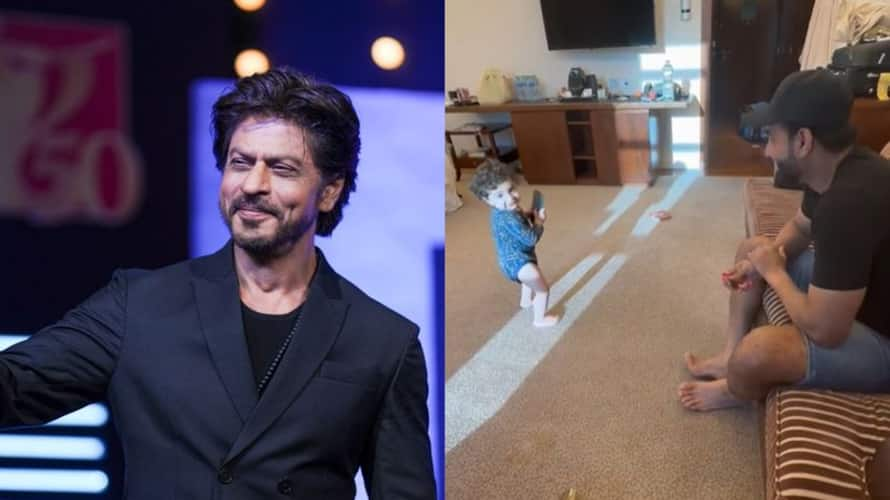 Bollywood King Shah Rukh Khan had his latest movie 'Pathaan' released this year, which continues to rule the box office. The film's title track, 'Jhoome jo Pathaan', is one of the best hits in SRK's modern-day movies and has been adored by most of his fans. The song became so famous that there have been several reels all across social media based on the same.
Recently, retired former Indian all-rounder Irfan Pathan's youngest son danced to the tune of the same SRK song. He shared a video of the same on Twitter, where the toddler takes Pathan's phone, on which the song was being played, and began to dance cheekily while the all-rounder shared a laugh.
ALSO READ: Anushka Sharma-Virat Kohli launch non-profit initiative 'SeVVA'; check details
"Khansaab @iamsrk, please add one more cutest fan in your list…" Pathan captioned the video. Later, SRK retweeted the video and captioned it, "Yeh tumse zyaada talented nikla….chota Pathaan [He turns out to be more talented than you....little Pathaan]", as he indicatively took a jibe at the all-rounder. Nonetheless, Pathan replied, "Har Baap Yahi to sun na chahta hai Khansaab [Every father wants to hear the same]".
In the meantime, fans laughed at SRK's comment, which was indicatively a jibe at Pathan, with one user noting, "I guess talent wasn't seen. That why he was never bought by KKR. Still bowling option role is open try getting him in there." Elsewhere, another fan wrote, "world cup winning cricketer ko tum bolte hue sharm nhi aati SHITRUKH".
Last Updated Mar 23, 2023, 3:40 PM IST