Samantha Ruth Prabhu, Naga Chaitanya to patch up? Latest Instagram post suggests possible reconnection; Read
Naga Chaitanya's Instagram post featuring their shared dog, Hash, has sparked rumors of a reconciliation with Samantha Ruth Prabhu, who is currently in Dubai for work. The couple separated in 2021 and did not disclose reasons for their split. Fans are speculating about the current state of their relationship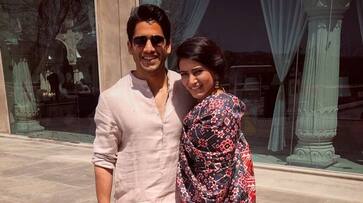 Naga Chaitanya has recently sparked rumors of a possible reconciliation with Samantha Ruth Prabhu after he shared a new post on Instagram. The couple, who separated in 2021, had previously kept their personal lives mostly private, leading to speculation about the current state of their relationship.
In his Instagram post, Naga Chaitanya shared a picture featuring Hash, a French Bulldog that he and Samantha had welcomed when they were still together. Hash had primarily been seen in Samantha's Instagram posts after their split, suggesting that she was taking care of the dog. However, Chaitanya's recent post showed him spending time with Hash, with the dog seated in his lap in a car while they watched the sunset. He captioned the photo with the word "Vibe."
This post led fans to wonder whether Naga Chaitanya and Samantha Ruth Prabhu had reconciled or if they were simply co-parenting their dogs. Some fans even directly asked Chaitanya if they had patched up, expressing their hope for their reconciliation. Others speculated about the possibility that Samantha may have left Hash with Chaitanya before her trip to Austria.
Meanwhile, Samantha shared on her own Instagram that she had landed in Dubai for a work-related trip. She posted pictures of herself in a stunning pink outfit, indicating that she was prepared for a busy day of work.
Naga Chaitanya and Samantha Ruth Prabhu had announced their separation in 2021 through a joint statement, but they did not publicly disclose the reasons behind their split. Chaitanya later confirmed that their divorce had been finalized the previous year, making them legally single for over a year. As of now, the exact status of their relationship remains a subject of speculation among their fans.
ALSO READ: Shah Rukh Khan to be given Y+ security cover; Is there a threat to his life? Here's what we know
Last Updated Oct 9, 2023, 9:38 AM IST