Salman Khan, Arijit Singh reconcile after nine-year feud for 'Tiger 3'; this is why they fell apart
Salman Khan and Arijit Singh's feud, which began in 2014 after an awards show incident, ended in 2023 as Arijit sang for Salman's film 'Tiger 3,' despite earlier attempts to apologize for the mishap. Arijit's comments on Salman's hosting and casual attire led to their falling out. Arijit explained his side, apologized, and texted Salman later, eventually making amends after nearly a decade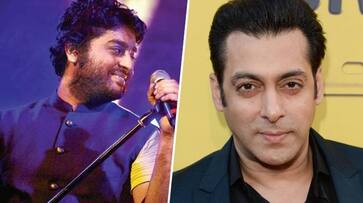 Salman Khan and Arijit Singh's long-standing feud came to an end in 2023 when the singer lent his voice for the song "Prabhu Leke Ka Naam" in the movie "Tiger 3." This reconciliation followed a rift that began in 2014, when an incident at an awards show soured their relationship. Arijit Singh's attempts to apologize were met with mixed responses from Salman Khan.
The rift between the two celebrities started at an awards show in 2014 when Salman Khan noticed that Arijit Singh had fallen asleep in the audience. Arijit attempted to tease Salman by attributing his drowsiness to Salman and Riteish Deshmukh's hosting, but this comment did not sit well with the actor. The situation worsened when Arijit walked on stage to receive his award wearing casual attire and chappals, which Salman disapproved of. The final blow to their falling out was when Salman Khan assumed Arijit was leaving immediately after accepting his award.
In an interview two years after the incident, Arijit Singh explained that he had fallen asleep at the awards show due to exhaustion from work. He was working on a song for Pritam and was extremely tired. He also admitted that he regretted his cheeky comment about Salman's hosting and even whispered an apology in Salman's ear when he received the award.
ALSO READ: Bigg Boss 17: Abhishek Kumar loses his cool; twists ex-girlfriend Isha Malviya's hand
Arijit stated, "I was on my seat and very tired. So I dozed off. As you know, these award functions go on for hours. When my name was announced for the award, someone had to wake me up. I know it was wrong. But I was tired and I dozed off." He further explained, "While I was walking up to the stage, they started capturing my images in my chappals and casuals. On stage, Salman Khan was laughing in disbelief saying, 'Tu hai winner' (You're the winner)? When I got on stage, he asked me if I had fallen asleep. In my nervousness, I blurted out, 'Aap logon ne sula dia' (you all put me to sleep). I immediately bit my tongue." Arijit expressed that he immediately apologized, whispering "sorry" into Salman's ear, but couldn't say more at the time.
After receiving the award, Arijit couldn't find his seat, and in his confusion, he started walking away. Salman Khan noticed this and commented on Arijit receiving the award in casual attire and walking away, which left Arijit feeling scared and uncertain about how to handle the situation.
Arijit, reflecting on the incident, revealed that he felt sorry and texted Salman Khan after the event. Salman responded by advising Arijit not to be so casual and to respect awards. Arijit appreciated the senior actor's rebuke and believed that Salman had let go of his anger. Fortunately, in 2023, it seems that both Salman Khan and Arijit Singh have put this incident behind them and reconciled, marking the end of their nine-year feud.
Last Updated Oct 25, 2023, 2:15 PM IST