Naseeruddin Shah could not sit through RRR and Pushpa; advocates for more nuanced films
Naseeruddin Shah candidly admits he couldn't sit through blockbuster films like "RRR" and "Pushpa," citing a preference for nuanced cinema. His remarks come after criticism of popular movies and raise discussions on evolving film preferences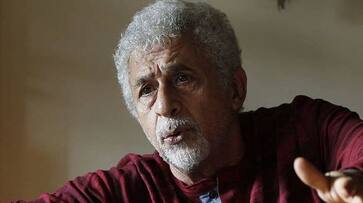 Veteran actor Naseeruddin Shah has recently expressed his candid opinions on two highly anticipated Indian films, SS Rajamouli's "RRR" and Allu Arjun's "Pushpa: The Rise." Known for his straightforward and unfiltered remarks, Shah admitted that he struggled to sit through these blockbuster films, citing his preference for more nuanced cinema. This revelation comes in the wake of his earlier comments on "The Kashmir Files" and "The Kerala Story."
In an interview with the YouTube channel We Are Yuvaa, Naseeruddin Shah praised the younger generation for being more evolved and informed. He acknowledged the thrill factor that such films offer to audiences but revealed that he personally doesn't find himself naturally inclined to watch them.
"I am pretty sure because I have great faith in the younger generation and I think that they are far more evolved, far more informed and far more savvy than we were. Apart from the thrill, I can't imagine what else one gets from watching such films. I tried to watch RRR, but I couldn't. I tried to watch Pushpa, but I couldn't," he stated.
Shah also made a distinction by mentioning that he did enjoy a Mani Ratnam film in its entirety, praising the acclaimed director for his filmmaking skills and lack of agenda. He questioned the lasting impact of movies like "RRR" and "Pushpa" beyond the immediate excitement or emotional release they provide, expressing his inability to relate to such films.
"Although I did watch a Mani Ratnam film, completely, because he is a very capable filmmaker and does not have an agenda. And I can't imagine besides the thrill or feeding the emotions hidden inside you. There is a sense of happiness that often lingers for several days after watching. I can't imagine. Main aisi films dekhne kabhi na jaaun," he added.
Naseeruddin Shah had previously made headlines when he criticized films like "Kerala Story" and "Gadar 2," even though he hadn't watched them but claimed to understand their themes. He expressed concern over the popularity of movies like "The Kashmir Files" and lamented the lack of recognition for filmmakers like Sudhir Mishra, Anubhav Sinha, and Hansal Mehta, who strive to portray the truth of their times.
In response to Shah's statements, director Vivek Agnihotri dismissed his comments as the cynicism of an older generation, suggesting that Naseeruddin Shah might not fully grasp the current cinematic landscape, remarking, "Naseer Bhai has grown old and cynical. I don't think he knows what he is talking about. He needs some help."
ALSO READ: Aankh Micholi Trailer: Paresh Rawal, Mrunal Thakur, Abhimanyu starrer is full family entertainer
Last Updated Sep 27, 2023, 9:58 AM IST