Kanguva: Suriya's magnum opus set to release on this date; Read more
Megastar Suriya's "Kanguva" promises a cinematic revolution with a global release in 38 languages, including 3D and IMAX formats. Directed by Siva, the raw and rustic world of 'Kanguva' boasts powerful performances, unprecedented action, and aims to expand Tamil cinema's global footprint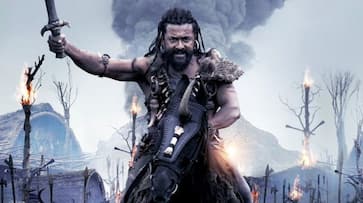 The creators of Megastar Suriya's highly anticipated project, the magnum opus "Kanguva," unveiled a captivating first glimpse of the film to mark the special occasion of the megastar's birthday. Subsequently, an intriguing poster has been unveiled, offering a glimpse into the raw and rustic world of 'Kanguva.' Now, the filmmakers are poised to make history as the film is set to be released globally in 38 languages, presented in 3D and IMAX formats.
Positioned as a visual action spectacle like no other, "Kanguva" is poised to set a new standard in the Indian entertainment industry with its expansive release in 38 languages worldwide, showcased in 3D and IMAX formats. Producer Gnanavelraja Ke revealed their intent to explore regions untapped by Tamil cinema in terms of marketing and release strategies for "Kanguva." With this groundbreaking initiative, "Kanguva" aims to redefine box office numbers and expand the reach of Tamil cinema.
The World of Kanguva promises to be a visceral and unrefined experience, presenting audiences with a fresh visual narrative. The film's essence lies in human emotions, powerful performances, and unprecedented action sequences on an epic scale.
ALSO READ: Singham Again: Ajay Devgn roars back as Bajirao Singham in 'Zakhmi Sher' avatar; Read more
Studio Green has entered into partnerships with leading distribution houses for a widespread global release in early 2024.
Directed by Siva, 'Kanguva' stars Suriya and Disha Patani in the lead roles, with Vetri Palanisamy handling cinematography and 'Rockstar' Devi Sri Prasad composing the musical score. Additional cast members will be unveiled in due course. The team plans to share intriguing facts about the film soon, adding to the excitement for Megastar Suriya's fans. The scheduled release for 'Kanguva' is in the summer of 2024.
Last Updated Nov 21, 2023, 4:05 PM IST