Is Karan Kundrra's new TV show 'Ishq Mein Ghayal' copy of 'Vampire Diaries'; Here's what netizens have to say
With their new TV show Ishq Mein Ghayal, Karan Kundrra, Gashmeer Mahajani, and Reem Shaikh are bringing back the realm of vampires and werewolves. However, netizens are dissatisfied and unhappy-read why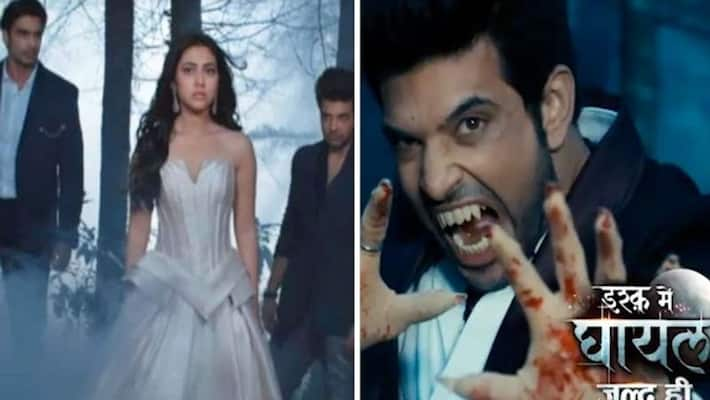 Supernatural fantasy dramas have grown popular on television. Many supernatural creatures have been tried and tested in TV programmes, from Naagin to Dayan to Braharakshas, and audiences have largely liked them.
Now, actors Karan Kundra, Gashmeer Mahajani, and Reem Shaikh are preparing to return to the realm of vampires and werewolves. 'Ishq Mein Ghayal,' an intriguing thriller-fantasy programme, will feature the trio. Arjun Bijlani and Niyati Fatnani will also appear in cameo roles.
Also Read: Is Qala star Tripti Dimri dating Anushka Sharma's brother Karnesh Ssharma?
The show's trailer has been released. However, the commercial is being ridiculed by netizens, who are wondering why there was a need to replicate, 'The Vampire Diaries,' an American supernatural teen drama about a young girl stuck between two vampire brothers. The show's Damon Salvatore was portrayed by Ian Somerhalder, while Paul Wesley played Stefan Salvatore.
The cast has been filming in places like Dehradun and Mussoorie for the same. Yash Patnaik's Beyond Dreams Entertainment makes the show. The caption of this promo read: "Gazab rahasyon ka khulaasa hoga iss prem kahaani mein. Aakhir Armaan aur Veer ke beech, kiske liye ghayal hoga Eisha ka dil? Dekhiye #IshqMeinGhayal jald hi, sirf #Colors par."
Also Read: Namrata Malla Super SEXY pics, video: Bhojpuri actress wishes Happy New Year in bikini
Many have remarked that Karan's character is similar to Damon from the American series. One of the social media users commented: "Just for Karan that's it..hello brother my Indian Damon." Another wrote: "Pls don't copy #vampirediaries". Some said: "The Vampire Diaries but with werewolves!" 
Few others penned that the show is rather similar to both 'Twilight' and 'The Vampire Diaries'. Another said, "Y the heck did he spoil "hello brother" nashe mein hai kya..... Deserves to get trolled."
Meanwhile, Karan Kundrra was recently spotted celebrating the New Year with the Bigg Boss 16 contestants.
Last Updated Jan 2, 2023, 9:55 AM IST